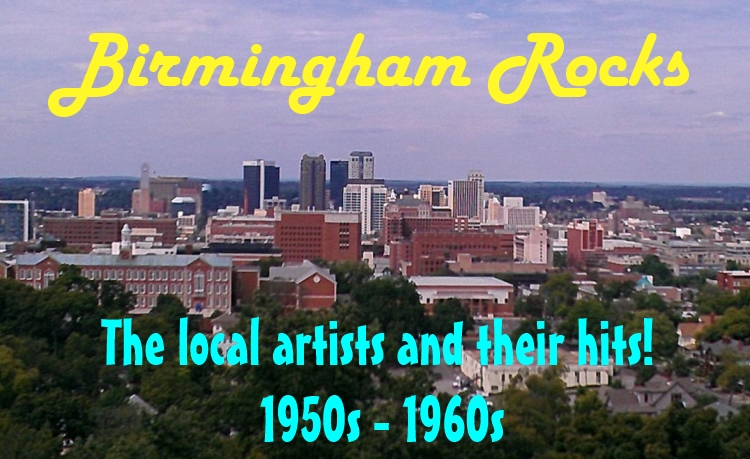 This month:
TOMMY CHARLES

by
Birmingham Record Collectors
Tommy Charles and his partner of almost 22 years, John Ed Willoughby, are often remembered as the "Godfathers" of talk-radio in Birmingham. But he also was an important part in the early days of "rock and roll" radio in Birmingham.

A native of Chattanooga, Tennessee, Tommy wanted to be a big band singer like his favorite male singer, Frank Sinatra. However, when Tommy left Chattanooga in 1955 to pursue his singing career, the big band era was ending. He first was a vocalist with the Horace Heidt Orchestra. While with the Heidt Band, he sang on a number of CBS Radio Network shows. He soon signed a recording contract with Decca Records shortly thereafter and recorded an album entitled "Our Love Affair." The title song of the same name received regional air play and became his signature radio song over the years. In 1956 he appeared as himself, along with other rock and roll stars, in the American International Pictures film "Shake, Rattle, and Rock" singing "Sweet Love on My Mind" and "Rockin' on Saturday Night." This success was followed by touring the night club and supper club circuit in the south and southeast, and appearing locally at Mike's South Pacific Club in Homewood.

Tiring of the constant travel necessary on the night club and supper club circuit, Tommy accepted an offer from legendary radio station general manager Ben McKinnon to be the overnight DJ for WSGN radio in Birmingham. His first day with WSGN was December 18, 1956, and he was given the midnight to 5:00 a.m. shift. According to Ben McKinnon who was there at that time, when he first went live on the air, Tommy "froze" and someone else had to take over for him. This however, was the first and only time Tommy Charles was speechless behind a radio microphone. He was an immediate hit with the teenage audience, and soon was moved to the night slot of 7:00 p.m. to midnight. He took over the Sky Castle Serenade show that was broadcast live from a small, remote glass-enclosed studio located above the Hickory Hut Bar-B-Que drive-in at the Five Points West Shopping Center.

Since the Sky Castle Serenade show had been such a big success in its previous location at Eli's Drive-In, with the teenagers parking in the restaurant parking lot just listening and watching the broadcast, WSGN was asked to move it to another location. This move worked well with Tommy taking over the broadcast at the new location. In an interview in the 1980's, Tommy talked about his days at WSGN and the Sky Castle broadcasts specifically. He lamented about how radio had changed as to what DJs could play, i.e., the playlist. Back then, he could play requests from the people at the restaurant and play pretty much whatever he wanted to play at night. He even sang along with the records when he felt like it. To this day, when we hear certain songs we associate with Sky Castle, we still remember them and Tommy.

After the remote Sky Castle broadcasts ended, Tommy returned to the studio and continued with his nighttime program. He was voted "Best DJ of the Year" by the Birmingham Advertising Club in 1957, '58, and '59. He also was active in civic theater, starring in several plays with the Center Players.

With success came other opportunities. In 1961, Tommy left WSGN to a take a position with KTHT radio in Houston, Texas – joining his general manager Ben McKinnon, and was replaced by Dave Roddy from WYDE. He returned to Birmingham the following year taking the 3:00 to 7:00 p.m. slot at WYDE. Shortly thereafter, he joined with Doug Layton, who had moved from WSGN to WYDE earlier, to become the first two-man radio team in Birmingham. Known as "Layton and Charles," they were an immediate success with their banter, skits, and the music they played. They also hosted a number of teenage dances in the local area at places like the Hollywood Country Club.

In 1965, Tommy and Doug started their own radio station, WAQY, in partnership with local auto dealer Tom Gloor. On-air characters they had developed over the years including "Buddy Birmingham", "Sir Rodney Featherstone", and "Jud and Clara Harrington" also went with them. It was in 1966 while Tommy and Doug were hosting the WAQY morning show that the most famous incident in his career to date took place – the "Ban the Beatles" hoopla. Early one morning, after hearing John Lennon's statement about the Beatles being more popular than Jesus Christ, Tommy and Doug decided that they would no longer play Beatles' records and announced their decision on the air. The momentum took off from there – spreading nationally. Tommy said later it was a "gut reaction" and was not something to generate publicity.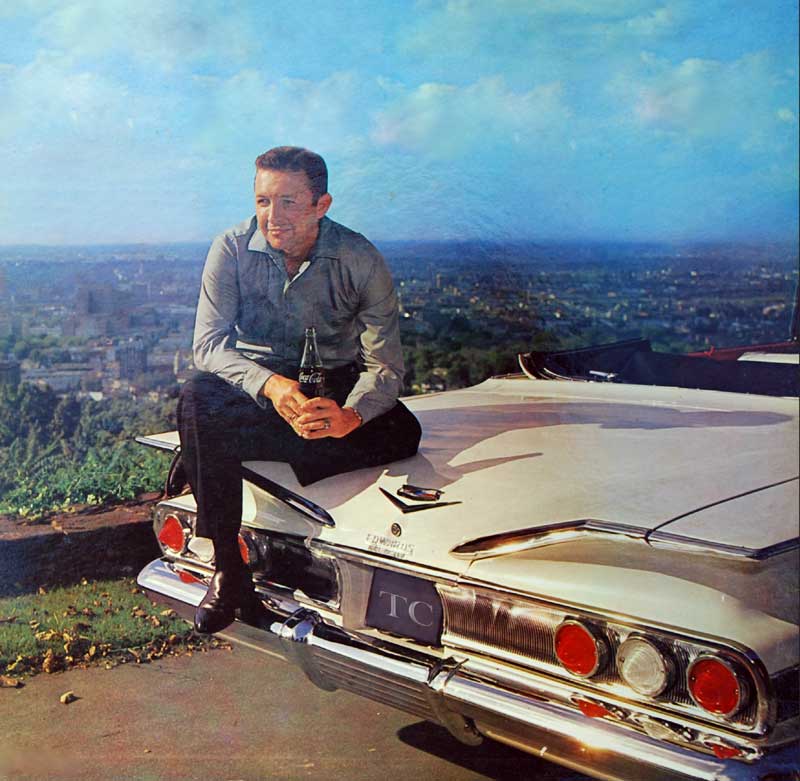 Because WAQY was a daytime station and had only 1,000 watts of power, it was difficult to generate enough revenue to be profitable. As such, WAQY, as it once was, went off the air in 1970. In the interim, Tommy continued to work with his advertising agency and for a brief period was the sportscaster for WBMG-TV (Channel 42) in the early 1970's.

In 1975, Tommy returned to WSGN, rejoining station general manager Ben McKinnon. Shortly thereafter, Tommy asked Mr. McKinnon to partner him with John Ed Willoughby – a partnership that lasted over 21 years. From the WSGN Penthouse in the City Federal Building, the "TC and John Ed Show" moved to WVOK and in 1985 began their long-tenured run with WERC. In the early days of their show, they still played some music before becoming an "all talk show."

Tommy and John Ed received the "Lotus Award" from the Alabama Broadcasters Association for their actions during the Birmingham ice storm of 1982. Tommy also was widely recognized for his individual efforts during the historic snowstorm of 1993, when he literally crawled up the mountain to get to the station to take calls from listeners in an effort to get aid to them during the emergency period.

Sadly, Tommy Charles passed away in 1996 after open heart surgery. Morning radio has not been same without him. Tommy, thanks for the memories and for all the good times!


UPCOMING RECORD SHOW

August 15-16. Birmingham Record Collectors. Gardendale Civic Center – 857 Main Street Gardendale, AL 35071. $3 admission. 100+ tables. Saturday – 9AM-5PM. Sunday 10AM-4PM. HOF induction Saturday night 6:00. Same venue. Performing will be Dan Penn, Spooner Oldham, Sandy Posey, Elvis Wade, and Travis Wammack and his Snakeman Band featuring Donnie Fritts. $20. Order tickets ASAP. A sellout is expected.


Here are three Tommy Charles songs....


Tommy Charles - Our Love Affair
(2.97 MB - MP3 format - total length: 2.35)



Tommy Charles - Love, You're a Stranger
(2.95 MB - MP3 format - total length: 2.35)



Tommy Charles - My Funny Valentine
(4.24 MB - MP3 format - total length: 3.42)



ARCHIVE:

JULY 2015:

THE ROCKIN' GIBRALTARS - What's Your Hurry?


JUNE 2015:

THE DISTORTIONS - Behind My Wall


THE DISTORTIONS - I Ain't Gonna Eat Out My Heart




THE DISTORTIONS - I Found a Girl


THE DISTORTIONS - Smokestack Lightning


THE DISTORTIONS - Let's Spend Some Time Together


THE DISTORTIONS - Thank You John
MAY 2015: JERRY McCAIN - She's Tough


APRIL 2015:

THE RAMRODS - Night Ride
MARCH 2015: ROCKIN' REBELLIONS - By My Side
ROCKIN' REBELLIONS - Run For Your Life


ROCKIN' REBELLIONS - Any Way the Wind Blows


FEBRUARY 2015:

THE JAMES GANG - Everybody Knows


THE JAMES GANG - Need Your Love


THE JAMES GANG - Right String, Wrong Yo-Yo
JANUARY 2015: TELLURIDE - Stand Alone
TELLURIDE - Birmingham Tonight


DECEMBER 2014:

THE DEL-RAYS - Fortune Teller
THE DEL-RAYS - Night Prowler
NOVEMBER 2014: THE K-OTICS - Double Shot (Of My Baby's Love)
THE K-OTICS - Charlena


OCTOBER 2014:

THE TOWNSMEN - Monkey Time


THE TOWNSMEN - It's True


CHARLES "ROOSTER" GALLAGER & TOWNSMEN - Hold It; Mr. Pitiful [LIVE]


SEPTEMBER 2014:

LEN WADE & THE TIKIS - I Was Doin' Alright
LEN WADE & THE TIKIS - Traveling Shoes
LEN WADE & THE TIKIS - Cloudy Skies


AUGUST 2014:

LARRY & THE LOAFERS - 'Till the End
LARRY & THE LOAFERS - Panama City Blues
JULY 2014: BAKER KNIGHT - High School Days
BAKER KNIGHT - These Songs of Yesteryear
JUNE 2014: CHARLES SMITH & THE COACHMEN - Going Wild
CHARLES SMITH & THE COACHMEN - Hard to Find
MAY 2014: BOBBY MIZELL / GLEN LAYNE - Sunset Blues / B. MIZELL - Heart and Soul
APRIL 2014: BOBBY EDWARDS - You're the Reason
MARCH 2014: DALE SERRANO - Ou We Man
FEBRUARY 2014: BOB CAIN & THE CAIN-BREAKERS - Butterbeans; Hey Little One
JANUARY 2014: THE BLEUS - Just Don't Know What To Do With Myself
DECEMBER 2013:

SHARON WYNTER - We're Breaking Up Again; Bad Dreams


NOVEMBER 2013: BAKER KNIGHT & THE KNIGHTMARES - Bring My Cadillac Back
OCTOBER 2013: JERRY WOODARD - Long Tall Texan
SEPTEMBER 2013: THE TORQUAYS -- Pineapple Moon

---
BIRMINGHAM RADIO CLIPS OF THE MONTH
September 2009 - August 2013
:

August 2013: WSGN 610 - August 18, 1968: Jim Taber's last show
July 2013: WYDE 850 - October 1984: Lee Masters (final show)
June 2013: WAQY 1220 - August 9, 1969: James Enright
May 2013: WYDE 850 - January 1976: Duke Rumore
April 2013: WVOK 690 - January 1976: Joe Rumore
March 2013: WSGN 610 - March 18, 1967: Steve Norris (Sat. evening)
February 2013: WSGN 610 - February 16, 1973 - final Steve Norris show
January 2013: WMPS 680 (Memphis, Tenn.) - 1977: Jon Anthony [tribute to JRRA]
December 2012: WAPI 1070 - December 1953: West End High School play
November 2012: WSGN 610 - November 1972: composite (Davis / Bass / Kincaid)
October 2012: WSGN 610 - October 4, 1967: Dick Kent
September 2012:
WERC 960 - February 1979: Coyote Calhoun
August 2012: WKXX 106.9 - May 1979: Charlie Martin (Steve Davis sub)
July 2012: WENN 1320 - 1966 & 1967: Weldon Clark & (unknown)
June 2012: WSGN 610 - August 1972: Amaysa Kincaid; Scotty Brink
May 2012: WVOK 690 - March 19, 1967: Johnny Hayes ("Dixie Hits")
April 2012: WSGN 610 - April 9, 1977: Johnny King (Easter afternoon)
March 2012: WAQY 1220 - March 18, 1967: Doug Layton
February 2012: WSGN 610 - May 24, 1969: Steve Norris
January 2012: WBCO 1450 Bessemer -- January 1957: "Spider"
December 2011: WAPI-TV 13: Cousin Cliff - December 25, 1961
November 2011: WERC, 01/21/76 ... Dick James, Jim Christian
October 2011: WZZK(FM) ... November 1982 station composite
September 2011: WAPI-FM -- "FM 95", September 1984: McCarthy/'Deah'
August 2011: 1955 Dial scan (from Montgomery, Ala.) - WVOK, WEZB, WILD, et al
July 2011: WERC-FM - July 1976: "Dapper Dan", 11 PM hour
June 2011: WAPI-FM "95 ROCK" - October 1982
May 2011: WSGN JINGLE MEGAMIX: 1950s - 1980s
April 2011: WSGN 610 - April 25, 1985: Steve Price, Orlando Beavers; final minutes!
March 2011: WAPI 1070 - 1943: Stanleigh Malotte "A trip inside the Pipe Organ"
February 2011: WERC-FM 106.9 - October 1974: "Captain Jack"
January 2011: WSGN 610 - December 29, 1967: Jim Taber
December 2010: WSGN 610 ... Christmas party gag tape, 1960 (T. Charles)
November 2010: WAPI-TV 13 - November 25, 1961: "Popeye Show" audio
October 2010: WKXX 106.9 - March 1979: Charlie Martin
September 2010: WJLN 104.7 - September 27, 1973: Wayne Braden
August 2010: WSGN 610 - May 2, 1973; June 23, 1973: John Bass
July 2010: WYDE 850 - October 3, 1967: Duke Rumore
June 2010: WSGN 610 - June 29, 1964: Jim Taber
May 2010: WAPI 1070 - assorted aircheck clips, 1949-1965 rundown
April 2010: WAQY 1220 - March 12, 1966: Layton & Charles show
March 2010: WYDE - early 1960: Sam Hale "House of Hits"
February 2010: WSGN - Bill Bolen newscast, 06/16/1964 - 10:55 a.m.
January 2010: WERC 960 - August 22, 1973 (debut of top-40 format)
December 2009: WKXX 106.9 - 1978 Profile / WKXX 106.9 - 1979 Profile
November 2009: WVOK 690 - 10/28/1949: Joe Rumore & Jean Foster
October 2009: WSGN 610 - 09/30/1949: "Quiz Man" w/Pappy McDonald
September 2009: WVOK 690 - 10/03/1949: "Hi, Neighbor Time" with Joe Rumore