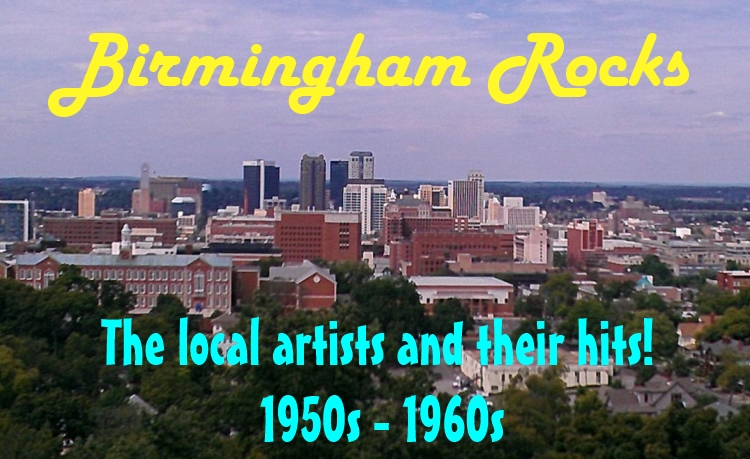 This month:
THE ROCKIN' GIBRALTARS
Local Rock 'n' Roll, '60s & '70s Style

[an article appearing in Prime Montgomery magazine]

If you were a teenager in south-central Alabama in the 1960s, chances are you danced the jerk, flirted with that cute boy, or made out in the corner of the high school gym to the music of a live band of local erstwhile musicians. Believing they could be the next stateside version of the Beatles, they went by a variety of catchy names: The Rockin' Gibraltars, the Sweet Young Un's, The Drones, The Fabulous Shades, the Gate Band.
They were a staple at dances for years, packing National Guard armories, gymnasiums, and teen clubs from Montgomery to Opp and Troy, and college campuses at Tuscaloosa, Auburn and Ole Miss.
"Back then, that's what music was about," remembers Bobby Dupree, 63, drummer with The Rockin' Gibraltars, a popular Montgomery-based group in the 60s. "It wasn't concerts where you played and 500 people sat down and listened to you. It was a real happening thing."
Local "garage bands" (they practiced in their parents' garages or living rooms) were found in almost every town in the United States in the mid-to late 60s, and the Montgomery area was no exception.
"We got started because of the Beatles," said Jimbo Jones, longtime singer and guitarist with Harmony, one of the most popular bands to come out of Montgomery that played in the mid to late 70s at Kegler's Kove, the lounge at Bama Lanes. Jones, now 59, also played school dances and armories in a group called The Drones.
"We played a lot of soul music, the Beatles, the Stones," he said. "We'd go all over, even the Old Dutch in Panama City."
By the summer of 1975 he'd joined singer and keyboardist Eddie Wohlford and drummer Tommy Beavers to become part of Harvest, the precursor to the group Harmony at the Kove that spawned two major talents who made it big nationally: Tommy Shaw and Beth Nielsen Chapman.
[Montgomery native and fellow Robert E. Lee graduate Tommy Shaw came back from Chicago to join the group, staying six months until getting a call to join Styx, who needed a replacement for a guitarist who'd left as they were about to go on tour. Beth Nielsen joined the group after Shaw left. Her harmonies with Eddie and Jimbo were legendary, and thus the group found its new name. Both Shaw and Chapman have gone on to stardom as performers and songwriters.]
Many who danced the night away to the Rockin' Gibraltars or who nursed a beer and smoked a cigarette listening to Harmony, recall those days with particular fondness and with nostalgia for a time that won't likely return.
"There are still a lot of local bands out there," said Sonny Grier, lead singer with the Rockin' Gibraltars. "But there's not a whole lot of money because there's no place for them to play. Most of the clubs have gone to a single performer, or a duo or karaoke. We came along at just the right time."
Add the extra costs associated with security guards and insurance, and hiring bands is not a profitable option for many club owners.
That's not to say Montgomery area favorite bands can't be seen any more. Several members still play in other bands for private parties, or solo at local restaurants, and on June 9, several members of Harmony plan a reunion show at the Blue Iguana in Prattville. It will be the first time they've have been together since a reunion benefit at a local club in 2007.
"It was elbow to elbow in there," remembered drummer Tommy Beavers. "I was blown away." Many regulars from the Kove days brought their grown children and will likely do so again.
Beavers and Jones will be joined by former members Kelvin Holly, who works in the recording industry in Muscle Shoals and tours with Neil Young, and Bill Hinds, who tours with the Paul Thorn Band. Keyboardist Mark Marvin will fill in for Eddie Wohlford who is unable to attend. Neither Tommy Shaw nor Beth Nielsen Chapman will be on hand due to their schedules.
Steve Lander, who originally booked Harvest at the Kove in 1975, has offered the Blue Iguana free for the night. He remembers the Kove days with Harvest/Harmony fondly, not only for the band's music but the people who came to see them.
"People would come night after night," said Lander, who owns Bama Lanes in Montgomery and Prattville. "There were a lot of fun people."
"I told Jimbo we should all come in with walkers," laughed Beavers. "I tried to get us all to dress up as the Fruit of the Loom guys but no one wanted to."
For musicians who played together for years, there won't be a need to practice much, if at all. "It's magic," said Beavers. "It feels good. It's effortless."
"Even after all these years," agreed Jones. "Gobs of people have asked us when we're going to do another reunion. I don't feel like we'll have any problem (remembering their songs)." It's a good bet they'll play some Steely Dan, Crosby, Stills & Nash, a favorite, "Sweet Magnolia," and Bill Hinds' rendition of Joe Walsh's "Rocky Mountain Way."
Though they've had other jobs over the years, neither Jones nor Beavers have stopped playing music.
"I play music half the time, the other half I'm a toilet salesman," Jones said, which means he's in wholesale plumbing with Thompson Supply Co. He and his wife live north of Prattville in a 1930s "shack," have three grown children and are expecting their first grandchild. He plays locally at Ruddles, Coaches Corner in Wetumpka, Young Barn Oyster Pub, and has recorded a CD.
Beavers has played drums for various bands, including Doc Severinson, Willie Nelson and Lyle Lovett, winning a Grammy Award for Best Performance by Duo or Group in 1994 while a member of Asleep at the Wheel. He's been in a few movies, raced sports cars and been inducted into the Alabama Music Hall of Fame. The father of six and grandfather of two currently lives in Montgomery and plays with the Bama Breeze Band.
"I'm content where I'm at," said Beavers, "except I could lose about 80 pounds."
Sonny Grier is another longtime Montgomery band member who still plays music. He was lead singer of the Rockin' Gibraltars, formed in 1965 by a group of students at Lee High School.
"It was the summer after my senior year," said Grier, who was joined by Keith Brewer on bass, Bobby Dupree on drums, Rusty Crumpton on guitar, Ronnie Monroe on trumpet and Ed Sanford on keyboards.

Their first gig was at the Wetumpka Recreation Center where admission was $1.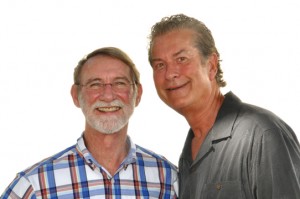 Bobby Dupree (L) and Sonny Grier
of The Rockin' Gibraltars.
With the help of Bill Moody and Cyril Brennan at WBAM, their music was played on the 50,000-watt radio station, helping the group built a following as an R&B band. They played at YMCAs, American Legion halls, private parties, and dances all over south Alabama, Panama City, Savannah, and Greenville, Miss.
"We put on a heck of a show," said Grier. "We were considered the number one soul band in the south. White guys playing soul music!"
"Most of the stuff we played was music you could easily dance to," said Dupree. "We didn't play where people sat around and drank. We mostly had a lot of fun."
They were especially known for their James Brown-style revue, with Grier wearing a cape much like the Godfather of Soul used while singing "Please, Please, Please."
The group got a break in 1968 when a Hollywood producer spotted them at the Big BAM show, and wanted to sign them to a recording contract. They moved to LA, minus Grier who'd gotten married and had a new baby and didn't want to move. He was replaced by Johnny Townsend from Tuscaloosa, who was living with Duane and Gregg Allman in LA. The group recorded a few songs at Muscle Shoals' FAME Studios, played around the Los Angeles area with big name bands like Vanilla Fudge and Three Dog Night, and once opened for Jimi Hendrix. They changed their name to Heart before eventually folding. Their most popular singles were "It Will Stand" (also recorded by The Showmen) and "Bug of Soul." The group's members drifted back to Alabama, with the exception of Townsend and Sanford who formed the Sanford-Townsend Band and recorded the hit "Smoke from a Distant Fire."
They have reformed several times with different members, playing for Lee High School reunions. Most recently they performed earlier this year for a benefit show for ailing former bandmate Keith Brewer, who died in April of cancer.
Dupree served with the Army in Vietnam, worked as an engineer in Muscle Shoals, and has been an electrical engineer for the Alabama Legislature for 27 years. He doesn't keep up with Johnny Townsend, but remains friends with Rusty Crumpton and Ed Sanford, who is a successful artist in Los Angeles.
Grier continued to sing with trios and orchestras, performing at wedding receptions and private parties. He's been a school principal and now sells wholesale art, although business has been suffering due to the economy.
His current band, The Soul Crackas, does many of the same soul hits the Rockin Gibraltar performed.
"I can sing as good or better now than I did then," said Grier. During a recent show some ladies, obviously a few years older than him, recognized Grier from the early Gibraltar days.
"It made me feel good in a way," he said. "It's better than not being remembered at all."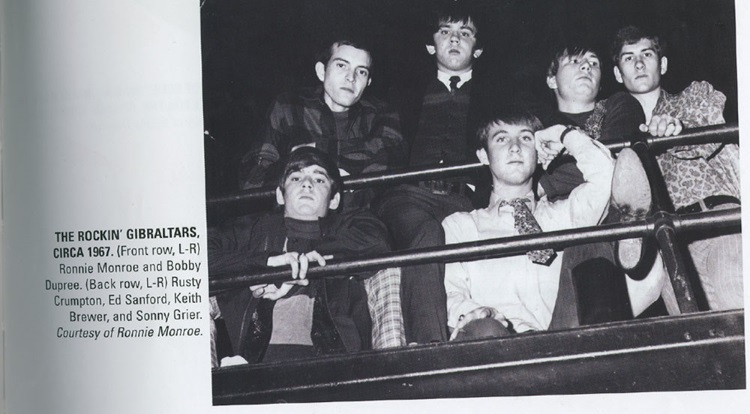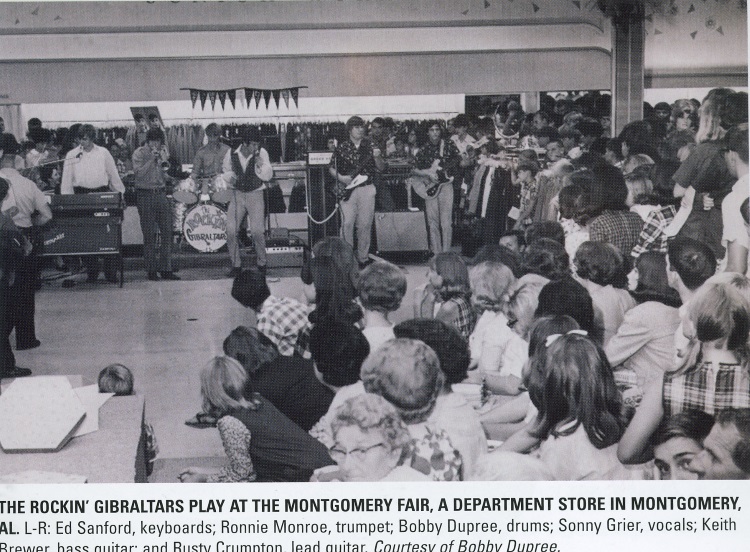 Here's one of their songs....

The Rockin' Gibraltars - What's Your Hurry?
(2.23 MB - MP3 format - total length: 1.57)



ARCHIVE:

JUNE 2015:

THE DISTORTIONS - Behind My Wall


THE DISTORTIONS - I Ain't Gonna Eat Out My Heart




THE DISTORTIONS - I Found a Girl


THE DISTORTIONS - Smokestack Lightning


THE DISTORTIONS - Let's Spend Some Time Together


THE DISTORTIONS - Thank You John
MAY 2015: JERRY McCAIN - She's Tough


APRIL 2015:

THE RAMRODS - Night Ride
MARCH 2015: ROCKIN' REBELLIONS - By My Side
ROCKIN' REBELLIONS - Run For Your Life


ROCKIN' REBELLIONS - Any Way the Wind Blows


FEBRUARY 2015:

THE JAMES GANG - Everybody Knows


THE JAMES GANG - Need Your Love


THE JAMES GANG - Right String, Wrong Yo-Yo
JANUARY 2015: TELLURIDE - Stand Alone
TELLURIDE - Birmingham Tonight


DECEMBER 2014:

THE DEL-RAYS - Fortune Teller
THE DEL-RAYS - Night Prowler
NOVEMBER 2014: THE K-OTICS - Double Shot (Of My Baby's Love)
THE K-OTICS - Charlena


OCTOBER 2014:

THE TOWNSMEN - Monkey Time


THE TOWNSMEN - It's True


CHARLES "ROOSTER" GALLAGER & TOWNSMEN - Hold It; Mr. Pitiful [LIVE]


SEPTEMBER 2014:

LEN WADE & THE TIKIS - I Was Doin' Alright
LEN WADE & THE TIKIS - Traveling Shoes
LEN WADE & THE TIKIS - Cloudy Skies


AUGUST 2014:

LARRY & THE LOAFERS - 'Till the End
LARRY & THE LOAFERS - Panama City Blues
JULY 2014: BAKER KNIGHT - High School Days
BAKER KNIGHT - These Songs of Yesteryear
JUNE 2014: CHARLES SMITH & THE COACHMEN - Going Wild
CHARLES SMITH & THE COACHMEN - Hard to Find
MAY 2014: BOBBY MIZELL / GLEN LAYNE - Sunset Blues / B. MIZELL - Heart and Soul
APRIL 2014: BOBBY EDWARDS - You're the Reason
MARCH 2014: DALE SERRANO - Ou We Man
FEBRUARY 2014: BOB CAIN & THE CAIN-BREAKERS - Butterbeans; Hey Little One
JANUARY 2014: THE BLEUS - Just Don't Know What To Do With Myself
DECEMBER 2013:

SHARON WYNTER - We're Breaking Up Again; Bad Dreams


NOVEMBER 2013: BAKER KNIGHT & THE KNIGHTMARES - Bring My Cadillac Back
OCTOBER 2013: JERRY WOODARD - Long Tall Texan
SEPTEMBER 2013: THE TORQUAYS -- Pineapple Moon

---
BIRMINGHAM RADIO CLIPS OF THE MONTH
September 2009 - August 2013
:

August 2013: WSGN 610 - August 18, 1968: Jim Taber's last show
July 2013: WYDE 850 - October 1984: Lee Masters (final show)
June 2013: WAQY 1220 - August 9, 1969: James Enright
May 2013: WYDE 850 - January 1976: Duke Rumore
April 2013: WVOK 690 - January 1976: Joe Rumore
March 2013: WSGN 610 - March 18, 1967: Steve Norris (Sat. evening)
February 2013: WSGN 610 - February 16, 1973 - final Steve Norris show
January 2013: WMPS 680 (Memphis, Tenn.) - 1977: Jon Anthony [tribute to JRRA]
December 2012: WAPI 1070 - December 1953: West End High School play
November 2012: WSGN 610 - November 1972: composite (Davis / Bass / Kincaid)
October 2012: WSGN 610 - October 4, 1967: Dick Kent
September 2012:
WERC 960 - February 1979: Coyote Calhoun
August 2012: WKXX 106.9 - May 1979: Charlie Martin (Steve Davis sub)
July 2012: WENN 1320 - 1966 & 1967: Weldon Clark & (unknown)
June 2012: WSGN 610 - August 1972: Amaysa Kincaid; Scotty Brink
May 2012: WVOK 690 - March 19, 1967: Johnny Hayes ("Dixie Hits")
April 2012: WSGN 610 - April 9, 1977: Johnny King (Easter afternoon)
March 2012: WAQY 1220 - March 18, 1967: Doug Layton
February 2012: WSGN 610 - May 24, 1969: Steve Norris
January 2012: WBCO 1450 Bessemer -- January 1957: "Spider"
December 2011: WAPI-TV 13: Cousin Cliff - December 25, 1961
November 2011: WERC, 01/21/76 ... Dick James, Jim Christian
October 2011: WZZK(FM) ... November 1982 station composite
September 2011: WAPI-FM -- "FM 95", September 1984: McCarthy/'Deah'
August 2011: 1955 Dial scan (from Montgomery, Ala.) - WVOK, WEZB, WILD, et al
July 2011: WERC-FM - July 1976: "Dapper Dan", 11 PM hour
June 2011: WAPI-FM "95 ROCK" - October 1982
May 2011: WSGN JINGLE MEGAMIX: 1950s - 1980s
April 2011: WSGN 610 - April 25, 1985: Steve Price, Orlando Beavers; final minutes!
March 2011: WAPI 1070 - 1943: Stanleigh Malotte "A trip inside the Pipe Organ"
February 2011: WERC-FM 106.9 - October 1974: "Captain Jack"
January 2011: WSGN 610 - December 29, 1967: Jim Taber
December 2010: WSGN 610 ... Christmas party gag tape, 1960 (T. Charles)
November 2010: WAPI-TV 13 - November 25, 1961: "Popeye Show" audio
October 2010: WKXX 106.9 - March 1979: Charlie Martin
September 2010: WJLN 104.7 - September 27, 1973: Wayne Braden
August 2010: WSGN 610 - May 2, 1973; June 23, 1973: John Bass
July 2010: WYDE 850 - October 3, 1967: Duke Rumore
June 2010: WSGN 610 - June 29, 1964: Jim Taber
May 2010: WAPI 1070 - assorted aircheck clips, 1949-1965 rundown
April 2010: WAQY 1220 - March 12, 1966: Layton & Charles show
March 2010: WYDE - early 1960: Sam Hale "House of Hits"
February 2010: WSGN - Bill Bolen newscast, 06/16/1964 - 10:55 a.m.
January 2010: WERC 960 - August 22, 1973 (debut of top-40 format)
December 2009: WKXX 106.9 - 1978 Profile / WKXX 106.9 - 1979 Profile
November 2009: WVOK 690 - 10/28/1949: Joe Rumore & Jean Foster
October 2009: WSGN 610 - 09/30/1949: "Quiz Man" w/Pappy McDonald
September 2009: WVOK 690 - 10/03/1949: "Hi, Neighbor Time" with Joe Rumore