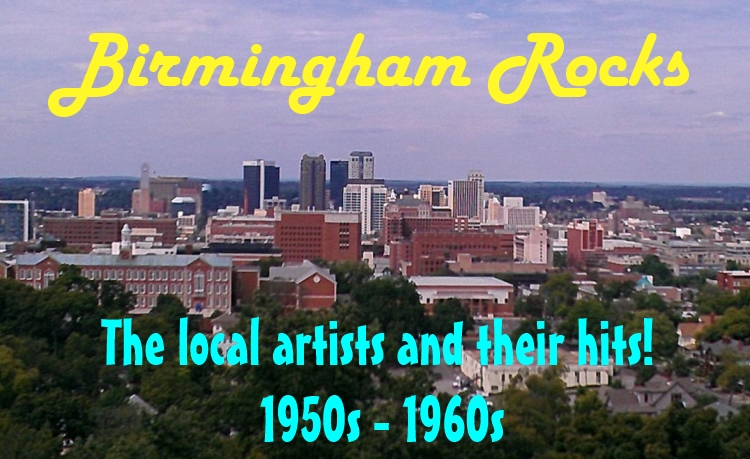 This month:
Jerry "Boogie" McCain

Jerry McCain was born on June 19, 1930 in Gadsden, Etowah County, Alabama. He has called Gadsden his home all of his life. He was the youngest of five children. His mother played guitar in the local Holiness Church. Jerry started playing the harmonica at about age five or six. He also plays drums and guitar. At various times, he also tried to play the trumpet and the Jew's harp.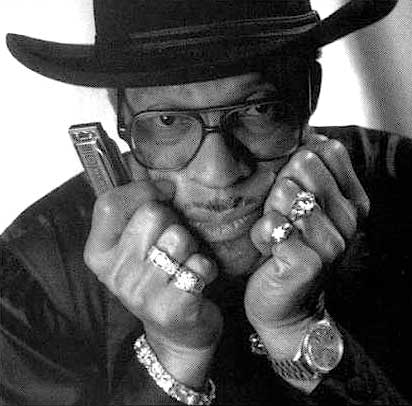 Jerry used to play on street corners – drawing large crowds. Policemen would take Jerry to get his harmonica if he didn't have it with him when they often asked him to play some of his tunes. In the 1950′s, Jerry used to play on the radio, at local station WETO, with only a jug to accompany him. Later, Jerry was on the street in front of a café and a stranger came up with an old guitar; Jerry asked him if he could play. The stranger said yes, and Jerry then hummed a tune for him to play. When he played it, Jerry pulled out his harmonica and began to also play. People began to gather around them – enjoying the music. This was the beginning of Jerry's first combo – The Upstarts.

Always hopeful, Jerry had always sent audition sample records to record companies, but now his tapes had more than just a harmonica and a washboard on it. He first recruited a friend, Jean Dozier, to play drums for them, but Jean played a marching-type drum, so Jerry then showed his brother Walter how to play the drums a little – mainly just to keep time. After the foundry shut down where Jerry's two brothers worked, Jerry would let one of the brothers play with him on Friday nights and the other brother play with him on Saturday nights. After a period of time they had a disagreement, and Jerry then got Jimmy Sheffield to play drums; Jimmy was a real drummer. However, Jerry's brother Walter did help Jerry record his first record "East Of The Sun" on the Trumpet label for the Diamond Recording Company in Jackson, Mississippi. This all happened after another harmonica man Little Walter had made a successful record called: "Juke And I Can't Hold On Much Longer". Hopeful Jerry sent an audition record to Trumpet sounding almost like the hit by Little Walter. Jerry was then asked to come to Mississippi for an audition.

Jerry stayed with Trumpet a few years and then went to Nashboro Records recording twelve tunes on the Excello label with Chris Collins, Jerry Sheffield, and other studio musicians. After leaving Excello, Jerry met Gary Sizemore who was in the music business in Birmingham, Alabama. Gary took Jerry into Homer Milam's studio on First Avenue North in Birmingham – a rickety old studio with an only Ampex three track recorder. The result was amazing! The musicians' soul simply came out and they cut two sides which are classics in Blues history. "Steady" – which is considered by many people to be the best blues harmonica instrumental ever recorded – and "She's Tuff" – which is Jerry's most recorded song (having been cut by such notable artists as the Fabulous Thunderbirds). Jerry's brother played drums and L.M. Jackson played guitar on "Steady". They went on to record "Ting Tang Tigaloo", "Love Me Right", and some other tunes that were not released. Sizemore wasn't satisfied, so he negotiated with CBS and Columbia Records – securing a recording contract with Okeh Records, a subsidiary label of Columbia. Jerry suggested the song "Red Top", written by Lionel Hampton and Pete Canard, for their first recording in Nashville. Top musicians and background vocalists gathered for the session – Boots Randolph, Lloyd Green, and the Anita Kerr Singers. "Red Top" charted on Billboard and the Music Reporter. On the second session done in Nashville, two sides were cut. One was "Jet Stream", a super instrumental, but far ahead of its time. The other side was "Twist 62″, which was timely, but nothing happened with the song. This session was one of the largest groups of musicians that had been assembled in Nashville. The same top pickers as before, plus the string section from the Nashville Symphony joined Jerry in this recording. The New York Times reviewed "Jet Stream" – calling it the greatest instrumental ever cut. Jerry played mostly in the South until 1965. He then went on the road with the Drifters, the Temptations, William Bell, Freddy King, and many others. Jerry's God-given talent has taken him to many places during his 60-year career.
On a personal level, Jerry still lives in Gadsden with his sixteen-year-old grandson, Joe, who Jerry has raised almost all of his life. Jerry was married twice – each briefly – before he married his third wife, the love of his life, Jean Spanks. Jean and Jerry did everything together. They were a perfect example of a loving, devoted couple. They shared the raising of his grandchildren, fishing, gardening, and many other pastimes. Jean passed away in March of 1997 after a courageous struggle with cancer. Jerry had the following inscribed on her headstone: "I had three marriages, but Doris Jean was my only wife". Jerry has built a memorial flower garden and a fountain in the yard of their home in her memory. Jerry has had a very difficult time since the death of his beloved Jean.

The city of Gadsden has honored Jerry by including his own day at their annual "Riverfest" – a four-day music event. The addition of "The Jerry McCain Broad Street Blues Bash" rounds out the entertainment and allows many local citizens to experience Jerry "live and in living color" (to use one of his phrases).

Jerry McCain, who still lives in the green house he built with his father in 1950, who once had a day gig as a bounty hunter, who was shot by an ex-wife, has really not changed throughout his 72 years. For half a century, songwriter and harmonica virtuoso, Jerry "Boogie" McCain has been singing the Alabama blues – blending humor, romance, social commentary, and a view of his own personal life. Yet still, his energy and enthusiasm remain unhampered – at the slightest hint of a request, Jerry will bless us, his loyal and loving Alabama fans, with a heart-touching display of his God-given craft – true heartfelt harmonica blues.
Here's one of his tunes....

JERRY McCAIN - She's Tough
(2.67 MB - MP3 format - total length: 2.19)



ARCHIVE:

APRIL 2015:

THE RAMRODS - Night Ride
MARCH 2015: ROCKIN' REBELLIONS - By My Side
ROCKIN' REBELLIONS - Run For Your Life


ROCKIN' REBELLIONS - Any Way the Wind Blows


FEBRUARY 2015:

THE JAMES GANG - Everybody Knows


THE JAMES GANG - Need Your Love


THE JAMES GANG - Right String, Wrong Yo-Yo
JANUARY 2015: TELLURIDE - Stand Alone
TELLURIDE - Birmingham Tonight


DECEMBER 2014:

THE DEL-RAYS - Fortune Teller
THE DEL-RAYS - Night Prowler
NOVEMBER 2014: THE K-OTICS - Double Shot (Of My Baby's Love)
THE K-OTICS - Charlena


OCTOBER 2014:

THE TOWNSMEN - Monkey Time


THE TOWNSMEN - It's True


CHARLES "ROOSTER" GALLAGER & TOWNSMEN - Hold It; Mr. Pitiful [LIVE]


SEPTEMBER 2014:

LEN WADE & THE TIKIS - I Was Doin' Alright
LEN WADE & THE TIKIS - Traveling Shoes
LEN WADE & THE TIKIS - Cloudy Skies


AUGUST 2014:

LARRY & THE LOAFERS - 'Till the End
LARRY & THE LOAFERS - Panama City Blues
JULY 2014: BAKER KNIGHT - High School Days
BAKER KNIGHT - These Songs of Yesteryear
JUNE 2014: CHARLES SMITH & THE COACHMEN - Going Wild
CHARLES SMITH & THE COACHMEN - Hard to Find
MAY 2014: BOBBY MIZELL / GLEN LAYNE - Sunset Blues / B. MIZELL - Heart and Soul
APRIL 2014: BOBBY EDWARDS - You're the Reason
MARCH 2014: DALE SERRANO - Ou We Man
FEBRUARY 2014: BOB CAIN & THE CAIN-BREAKERS - Butterbeans; Hey Little One
JANUARY 2014: THE BLEUS - Just Don't Know What To Do With Myself
DECEMBER 2013:

SHARON WYNTER - We're Breaking Up Again; Bad Dreams


NOVEMBER 2013: BAKER KNIGHT & THE KNIGHTMARES - Bring My Cadillac Back
OCTOBER 2013: JERRY WOODARD - Long Tall Texan
SEPTEMBER 2013: THE TORQUAYS -- Pineapple Moon

---
BIRMINGHAM RADIO CLIPS OF THE MONTH
September 2009 - August 2013
:

August 2013: WSGN 610 - August 18, 1968: Jim Taber's last show
July 2013: WYDE 850 - October 1984: Lee Masters (final show)
June 2013: WAQY 1220 - August 9, 1969: James Enright
May 2013: WYDE 850 - January 1976: Duke Rumore
April 2013: WVOK 690 - January 1976: Joe Rumore
March 2013: WSGN 610 - March 18, 1967: Steve Norris (Sat. evening)
February 2013: WSGN 610 - February 16, 1973 - final Steve Norris show
January 2013: WMPS 680 (Memphis, Tenn.) - 1977: Jon Anthony [tribute to JRRA]
December 2012: WAPI 1070 - December 1953: West End High School play
November 2012: WSGN 610 - November 1972: composite (Davis / Bass / Kincaid)
October 2012: WSGN 610 - October 4, 1967: Dick Kent
September 2012:
WERC 960 - February 1979: Coyote Calhoun
August 2012: WKXX 106.9 - May 1979: Charlie Martin (Steve Davis sub)
July 2012: WENN 1320 - 1966 & 1967: Weldon Clark & (unknown)
June 2012: WSGN 610 - August 1972: Amaysa Kincaid; Scotty Brink
May 2012: WVOK 690 - March 19, 1967: Johnny Hayes ("Dixie Hits")
April 2012: WSGN 610 - April 9, 1977: Johnny King (Easter afternoon)
March 2012: WAQY 1220 - March 18, 1967: Doug Layton
February 2012: WSGN 610 - May 24, 1969: Steve Norris
January 2012: WBCO 1450 Bessemer -- January 1957: "Spider"
December 2011: WAPI-TV 13: Cousin Cliff - December 25, 1961
November 2011: WERC, 01/21/76 ... Dick James, Jim Christian
October 2011: WZZK(FM) ... November 1982 station composite
September 2011: WAPI-FM -- "FM 95", September 1984: McCarthy/'Deah'
August 2011: 1955 Dial scan (from Montgomery, Ala.) - WVOK, WEZB, WILD, et al
July 2011: WERC-FM - July 1976: "Dapper Dan", 11 PM hour
June 2011: WAPI-FM "95 ROCK" - October 1982
May 2011: WSGN JINGLE MEGAMIX: 1950s - 1980s
April 2011: WSGN 610 - April 25, 1985: Steve Price, Orlando Beavers; final minutes!
March 2011: WAPI 1070 - 1943: Stanleigh Malotte "A trip inside the Pipe Organ"
February 2011: WERC-FM 106.9 - October 1974: "Captain Jack"
January 2011: WSGN 610 - December 29, 1967: Jim Taber
December 2010: WSGN 610 ... Christmas party gag tape, 1960 (T. Charles)
November 2010: WAPI-TV 13 - November 25, 1961: "Popeye Show" audio
October 2010: WKXX 106.9 - March 1979: Charlie Martin
September 2010: WJLN 104.7 - September 27, 1973: Wayne Braden
August 2010: WSGN 610 - May 2, 1973; June 23, 1973: John Bass
July 2010: WYDE 850 - October 3, 1967: Duke Rumore
June 2010: WSGN 610 - June 29, 1964: Jim Taber
May 2010: WAPI 1070 - assorted aircheck clips, 1949-1965 rundown
April 2010: WAQY 1220 - March 12, 1966: Layton & Charles show
March 2010: WYDE - early 1960: Sam Hale "House of Hits"
February 2010: WSGN - Bill Bolen newscast, 06/16/1964 - 10:55 a.m.
January 2010: WERC 960 - August 22, 1973 (debut of top-40 format)
December 2009: WKXX 106.9 - 1978 Profile / WKXX 106.9 - 1979 Profile
November 2009: WVOK 690 - 10/28/1949: Joe Rumore & Jean Foster
October 2009: WSGN 610 - 09/30/1949: "Quiz Man" w/Pappy McDonald
September 2009: WVOK 690 - 10/03/1949: "Hi, Neighbor Time" with Joe Rumore