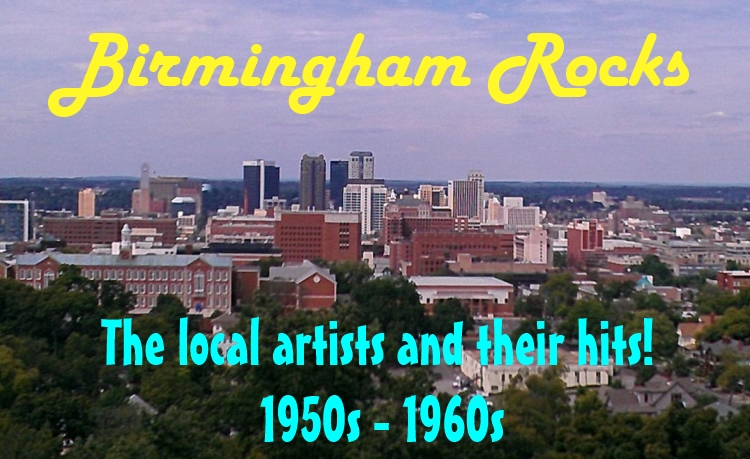 For November: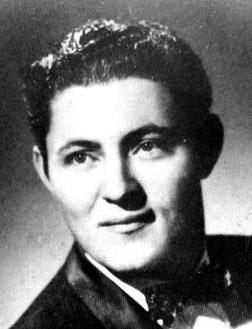 Sammy Salvo
A Birmingham Favorite

By Jim Keresztessy

Born Salvatore Anselmo in Birmingham, Alabama in 1932, Sammy started out singing country music like the popular Webb Pierce songs of the time. He sang with music entrepreneurs like Birmingham disc jockey Joe Rumore, who took music into the small town locales around the state by highlighting local unknown talents showcased by a variety of sponsoring businesses coordinated by Joe. Sammy even recorded local commercials for Rumore – from Golden Eagle Syrup to Little Miss Sunbeam Bread.

In late 1957, Sammy recorded 2 songs that he had written – "One Little Baby" and "Lonely Dreamer" – in Joe's basement, which was one of the first places in Birmingham that had real hi-fidelity equipment for recording. Backing Sammy on this was the local session group called the Jubilaires, made up of Rick May, Kenny Wallis, and Henry Stellecki. These recordings were pressed under RCA's custom pressing operation and released on the local Mark V label. Sammy's brother George took off with a carload of the 45's to Houston and went door-to-door hawking the record to all of the record shops and DJ's. In the meantime, Mr. Rumore had sent Sammy to Nashville to meet Chet Atkins and play his demo tapes for him. Atkins liked what he heard, but told Salvo that he was full at the time of new breaking artists like Sammy, so Sammy headed back home. In the meantime, RCA was receiving word that Sammy's record had sold 10,000 copies the first week of release in Houston; so the wise businessman Mr. Atkins decided to recall Salvo back to Nashville and immediately signed him to an RCA Victor recording contract.

The first recording session set up for Sammy was to re-record the Mark V songs for RCA. Moments prior to the session, Salvo was given a tape of a just-released song by a Nashville recording group led by lead singer Dale Ward, called the Crescendos, doing a teen-type rock 'n roller called "Oh Julie" that had only been out about a week on Excello's subsidiary label Nasco. Sammy did not know the song was released; he simply liked the sound. So he chose to record his own version of "Oh Julie". On the B-side of the RCA single, he recorded Wayne Handy's "Say Yeah" that had been released on the Renown label. Although it was the Crescendos' version of "Oh Julie" that forged its way into the top five nationwide in December of 1958, Sammy's version made it to a respectable #23 and probably prevented the Crescendos from garnering enough sales to reach #1. Many stations played "Say Yeah" because it too was a really good song, and the Crescendos' version of "Oh Julie" was getting the bigger share over Sammy's version on the A-side. Teens loved the "Say Yeah" side because it was a great dance tune. But "Oh Julie" was a success for Sammy. In fact, it was Sammy's biggest hit.

Sammy styled himself after Bobby Darin, he says, "because he was a good entertainer". This is obvious when you hear Salvo's voice, especially on some of his songs like "Marble Heart". Sammy fit the class of Darin's persona well. His performances, all across the country, showed Sammy as a class act – from his actions to his dress. And like most pop stars of the era, Salvo was the sweetheart of all the girls. He got so many letters from girls that he used to fill up the trunk of his car with them. But one girl in particular, Carol Park, for whom he wrote "Don't Cast Your Spell on Me" did just that, and in 1961 Sammy married. His popularity with the girls was capitalized on by some of the show hustlers working rock 'n roll shows across the nation at the time. Sammy received letters and cards from girls on one occasion exclaiming his handsome looks and his singing voice at a show in California. Sammy replied, asking what did he look like in the show since he had never even been to California! Sammy even made it to Dick Clark's American Bandstand for an appearance doing "She Takes Sun Baths", a take-off of the Royal Teens hit of the time "Short Shorts". Salvo was making big bucks at the $100 per hour standard rate for 1958 performers. Sammy couldn't wait to get back to Birmingham when he started making good money recording and performing. He went straight to Jim Skinner Ford, pointing to a new 1960 Thunderbird, saying "Put a Continental Kit on that one and I'll take it!".

Sammy recorded many other songs on RCA – with one of the best being "Lovin' At Night" written by David Gates. He even did a cover of Hank Williams' "Kaw-Liga" on the Imperial label that was rather well done. A song of Roy Orbison's called "Night" was recorded and released by Salvo that is considered a great cover version. Most of Salvo's records emphasized his powerful crooner-style voice, so they were all considered good. He recorded for four major labels in his career – RCA, Dot, Imperial, and Hickory. Sammy also wrote a number of songs along the way. In fact, Sammy has stated that he probably made more money from his record-writing than from his recording. Some he recorded, and some others recorded. Jimmy Newman's release on the Dot label of "Bop-A-Hula" was written by Salvo. Another song previously mentioned above, "Don't Cast Your Spell on Me", was written by Sammy for Fats Domino but was rejected by the Fat Man, so Sammy just recorded and released it himself.

Throughout his career, Sammy recorded with many big-name people in the recording industry. Some of them include: Chet Atkins, Boots Randolph, the Jordanaires, Jerry Reed, Joe South, the Anita Kerr Singers (who backed up Sammy on about 20 of his 30 career releases), and Floyd Cramer. He met many more of the just-emerging rock 'n roll stars of the day while recording in Nashville and also throughout his travels and road tours. He tells the story of seeing little Brenda Lee at a disc jockey convention in Nashville when she was starting out – only 9 years old, and she had a sprained ankle at the time. So Sammy personally 'carried' her around to meet and talk with all of the DJ's at the convention.

Sammy has not publicly sung since a local recording artists reunion in 1983, but he was on a radio show hosted by Birmingham 'heyday of rock 'n roll' disc jockey Russ Knight recorded for Jefferson State Community College during the Christmas season of 1999. Playing his marvelous collection of music and reminiscing about his fabulous career in the recording business, it was easy to see that Sammy Salvo enjoyed as well as appreciated and respected his earned place in rock 'n roll history. Knowing Sammy as the great and personable man that he is, only us – his lucky fans – can enjoy, respect, and appreciate him more.

Here are five songs by Sammy Salvo........

SAMMY SALVO - Oh True Love
(2.32 MB - MP3 format - total length: 2.01)



SAMMY SALVO - Lonely Dreamer
(2.69 MB - MP3 format - total length: 2.21)



SAMMY SALVO - Lovin' At Night
(2.56 MB - MP3 format - total length: 2.14)



SAMMY SALVO - Am I Lucky
(2.34 MB - MP3 format - total length: 2.03)



SAMMY SALVO - Oh Julie
(2.96 MB - MP3 format - total length: 2.35)



ARCHIVE:

OCTOBER 2015:

THE EPICS - Cha Cha Cha


THE EPICS - On the Rocks


THE SOUL BROTHERS - Baby, Baby, Baby


SEPTEMBER 2015:

THE HARD TIMES - Losing You


THE RITES OF SPRING - Comin' on Back to Me


THE RITES OF SPRING - Why


AUGUST 2015:

TOMMY CHARLES - Our Love Affair


TOMMY CHARLES - Love, You're a Stranger
TOMMY CHARLES - My Funny Valentine


JULY 2015:

THE ROCKIN' GIBRALTARS - What's Your Hurry?


JUNE 2015:

THE DISTORTIONS - Behind My Wall


THE DISTORTIONS - I Ain't Gonna Eat Out My Heart




THE DISTORTIONS - I Found a Girl


THE DISTORTIONS - Smokestack Lightning


THE DISTORTIONS - Let's Spend Some Time Together


THE DISTORTIONS - Thank You John
MAY 2015: JERRY McCAIN - She's Tough


APRIL 2015:

THE RAMRODS - Night Ride
MARCH 2015: ROCKIN' REBELLIONS - By My Side
ROCKIN' REBELLIONS - Run For Your Life


ROCKIN' REBELLIONS - Any Way the Wind Blows


FEBRUARY 2015:

THE JAMES GANG - Everybody Knows


THE JAMES GANG - Need Your Love


THE JAMES GANG - Right String, Wrong Yo-Yo
JANUARY 2015: TELLURIDE - Stand Alone
TELLURIDE - Birmingham Tonight


DECEMBER 2014:

THE DEL-RAYS - Fortune Teller
THE DEL-RAYS - Night Prowler
NOVEMBER 2014: THE K-OTICS - Double Shot (Of My Baby's Love)
THE K-OTICS - Charlena


OCTOBER 2014:

THE TOWNSMEN - Monkey Time


THE TOWNSMEN - It's True


CHARLES "ROOSTER" GALLAGER & TOWNSMEN - Hold It; Mr. Pitiful [LIVE]


SEPTEMBER 2014:

LEN WADE & THE TIKIS - I Was Doin' Alright
LEN WADE & THE TIKIS - Traveling Shoes
LEN WADE & THE TIKIS - Cloudy Skies


AUGUST 2014:

LARRY & THE LOAFERS - 'Till the End
LARRY & THE LOAFERS - Panama City Blues
JULY 2014: BAKER KNIGHT - High School Days
BAKER KNIGHT - These Songs of Yesteryear
JUNE 2014: CHARLES SMITH & THE COACHMEN - Going Wild
CHARLES SMITH & THE COACHMEN - Hard to Find
MAY 2014: BOBBY MIZELL / GLEN LAYNE - Sunset Blues / B. MIZELL - Heart and Soul
APRIL 2014: BOBBY EDWARDS - You're the Reason
MARCH 2014: DALE SERRANO - Ou We Man
FEBRUARY 2014: BOB CAIN & THE CAIN-BREAKERS - Butterbeans; Hey Little One
JANUARY 2014: THE BLEUS - Just Don't Know What To Do With Myself
DECEMBER 2013:

SHARON WYNTER - We're Breaking Up Again; Bad Dreams


NOVEMBER 2013: BAKER KNIGHT & THE KNIGHTMARES - Bring My Cadillac Back
OCTOBER 2013: JERRY WOODARD - Long Tall Texan
SEPTEMBER 2013: THE TORQUAYS -- Pineapple Moon

---
BIRMINGHAM RADIO CLIPS OF THE MONTH
September 2009 - August 2013
:

August 2013: WSGN 610 - August 18, 1968: Jim Taber's last show
July 2013: WYDE 850 - October 1984: Lee Masters (final show)
June 2013: WAQY 1220 - August 9, 1969: James Enright
May 2013: WYDE 850 - January 1976: Duke Rumore
April 2013: WVOK 690 - January 1976: Joe Rumore
March 2013: WSGN 610 - March 18, 1967: Steve Norris (Sat. evening)
February 2013: WSGN 610 - February 16, 1973 - final Steve Norris show
January 2013: WMPS 680 (Memphis, Tenn.) - 1977: Jon Anthony [tribute to JRRA]
December 2012: WAPI 1070 - December 1953: West End High School play
November 2012: WSGN 610 - November 1972: composite (Davis / Bass / Kincaid)
October 2012: WSGN 610 - October 4, 1967: Dick Kent
September 2012:
WERC 960 - February 1979: Coyote Calhoun
August 2012: WKXX 106.9 - May 1979: Charlie Martin (Steve Davis sub)
July 2012: WENN 1320 - 1966 & 1967: Weldon Clark & (unknown)
June 2012: WSGN 610 - August 1972: Amaysa Kincaid; Scotty Brink
May 2012: WVOK 690 - March 19, 1967: Johnny Hayes ("Dixie Hits")
April 2012: WSGN 610 - April 9, 1977: Johnny King (Easter afternoon)
March 2012: WAQY 1220 - March 18, 1967: Doug Layton
February 2012: WSGN 610 - May 24, 1969: Steve Norris
January 2012: WBCO 1450 Bessemer -- January 1957: "Spider"
December 2011: WAPI-TV 13: Cousin Cliff - December 25, 1961
November 2011: WERC, 01/21/76 ... Dick James, Jim Christian
October 2011: WZZK(FM) ... November 1982 station composite
September 2011: WAPI-FM -- "FM 95", September 1984: McCarthy/'Deah'
August 2011: 1955 Dial scan (from Montgomery, Ala.) - WVOK, WEZB, WILD, et al
July 2011: WERC-FM - July 1976: "Dapper Dan", 11 PM hour
June 2011: WAPI-FM "95 ROCK" - October 1982
May 2011: WSGN JINGLE MEGAMIX: 1950s - 1980s
April 2011: WSGN 610 - April 25, 1985: Steve Price, Orlando Beavers; final minutes!
March 2011: WAPI 1070 - 1943: Stanleigh Malotte "A trip inside the Pipe Organ"
February 2011: WERC-FM 106.9 - October 1974: "Captain Jack"
January 2011: WSGN 610 - December 29, 1967: Jim Taber
December 2010: WSGN 610 ... Christmas party gag tape, 1960 (T. Charles)
November 2010: WAPI-TV 13 - November 25, 1961: "Popeye Show" audio
October 2010: WKXX 106.9 - March 1979: Charlie Martin
September 2010: WJLN 104.7 - September 27, 1973: Wayne Braden
August 2010: WSGN 610 - May 2, 1973; June 23, 1973: John Bass
July 2010: WYDE 850 - October 3, 1967: Duke Rumore
June 2010: WSGN 610 - June 29, 1964: Jim Taber
May 2010: WAPI 1070 - assorted aircheck clips, 1949-1965 rundown
April 2010: WAQY 1220 - March 12, 1966: Layton & Charles show
March 2010: WYDE - early 1960: Sam Hale "House of Hits"
February 2010: WSGN - Bill Bolen newscast, 06/16/1964 - 10:55 a.m.
January 2010: WERC 960 - August 22, 1973 (debut of top-40 format)
December 2009: WKXX 106.9 - 1978 Profile / WKXX 106.9 - 1979 Profile
November 2009: WVOK 690 - 10/28/1949: Joe Rumore & Jean Foster
October 2009: WSGN 610 - 09/30/1949: "Quiz Man" w/Pappy McDonald
September 2009: WVOK 690 - 10/03/1949: "Hi, Neighbor Time" with Joe Rumore