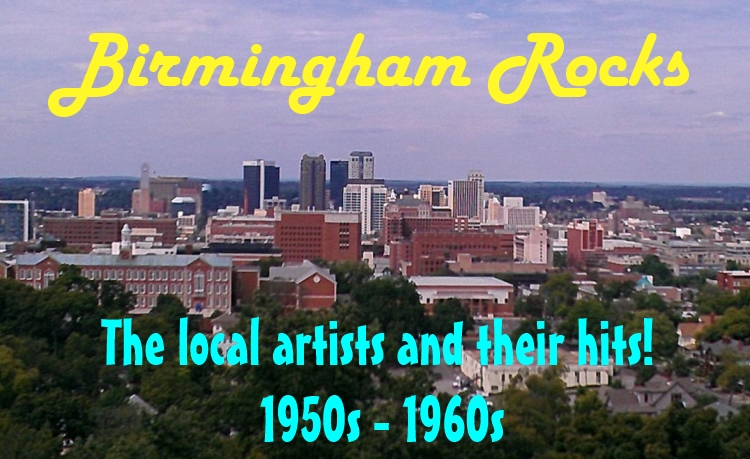 This month:
THE K-OTICS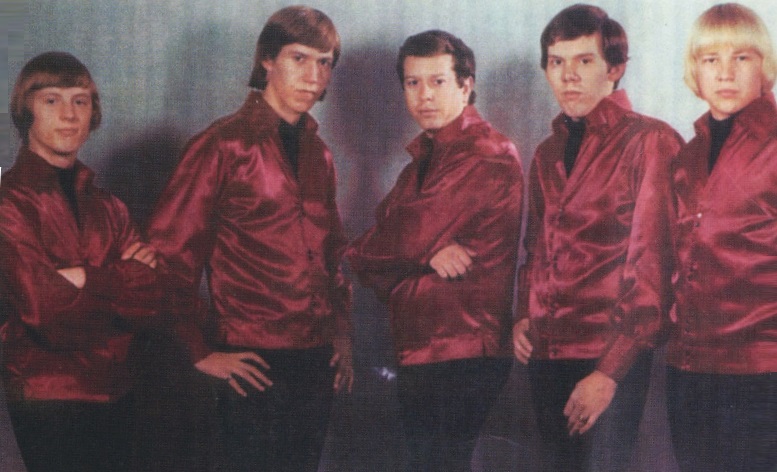 Tommy Mann and Marvin Taylor were not original members of The K-Otics, but they quickly evolved into the band's leaders. Under Mann's tutelage, The K-Otics became an excellent performing band and amazingly popular in the southeast region. While

The Swingin' Medallions

' cover of "Double Shot (of My Baby's Love)" might be better known today than The K-Otics competing version, it was the K-Otics who recorded it first…with no less than

Sam Phillips

at the helm. Unfortunately for The K-Otics, unforeseen circumstances and delays resulted in the Medallion's version reaching radio stations only days before the K-Otics version did. Both songs proved extremely popular, however, and still rate as the signature tune for both groups.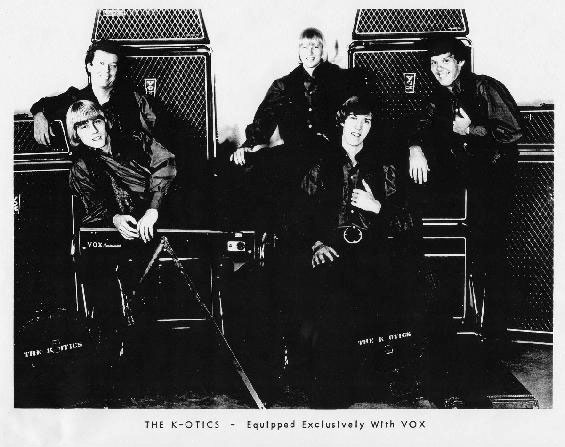 Tommy Mann Recalls The K-Otics



I come from a family of musicians so it was natural to be a member of the high school band as well as the church choir. I was not a member of the original K-Otics but joined early on – by accident, actually. I was assigned to a dorm room in the fall of '62 with a total stranger, Joe Torillo. Joe was playing his guitar one night and I knew the song so I started singing it. Joe asked, "You can sing?" I said, "Yep."

He had me learn a few more songs over the next few days. Joe told me he played in a band called The K-Otics and that their lead guitar player was doing the singing for them but wasn't really a lead singer. He asked if I would sing with them the following weekend.

We played at the Ozark teen club in Ozark, Alabama, which was 50 or so miles from Troy University where we were students. The only song I was able to do good enough was "Rhythm of the Rain" but the crowd loved the song so much that I had to sing it four times. I was paid $20.00…but the feeling of being on stage and being paid for it was wonderful! I figured I was done though since I had overshadowed the guitar player who was also the leader of the band. Joe told me the next week that the band had decided to make me their new lead singer.

For the remainder of the year we played on campus and at high school proms, etc. Over the next few months the other members dropped out of college. I believe Joe was the last one to leave. We picked up members as needed. When Joe left he said The K-Otics was my band if I wanted. For the next one and a half years the name of the band changed to Tommy Mann & The K-Otics. I used students that could play drums and guitar to play with me when I contracted to perform. Some of those players were really good. A guitar player from Kissimmee, Florida, Ken Murphy may have been the best of them all, but they kept leaving school so I had to keep replacing rhythm players.

At the end of the 1964 school year, in April or May, I was looking for some new members and agreed to listen to three guys that had just graduated from high school. We practiced and then played a gig. Not only was the sound great but we all seemed to get along with each other. One of the guys played guitar and after a few months I let him go and started playing guitar myself. This was the last time we only had four members.

In 1965, my last year in college, we recorded a song called "Charlena" for Rick Hall of fame Records which went to number one in Montgomery as well as in Troy, Auburn and other locales. I think Jimmy Johnson may have recorded it for us (Jimmy told Kim Venable last year that he thinks he did record us there but that he wasn't 100% sure. How about that? The K-Otics might have jumpstarted Jimmy Johnson, Dan Penn and Spooner Oldham to their eventual stardom! Just kidding!). Our rate to perform went much higher and we began to get calls from most of Alabama as well as from eastern Georgia. We played for most of the high school proms in the area…but the best was yet to come!

I first heard "Double Shot (Of My baby's Love)" played by a local band in Troy. They had heard a band called The (Swingin') Medallions play it somewhere. We played at a club in Panama City, Florida, at the Old Dutch Inn and went to another club where we head The Medallions. They played "Double Shot" and said they were going to record it. We started playing the song like most bands and figured they would release the record. We saw them months later and they said Dot Records refused to do the record. I, we well as my drummer, told them we were thinking of recording it and they said, "Go ahead." I knew that there had been a version years before so I had a contact research the history and found the Dick Holler & The Holidays (original) version. Since the song had already been recorded it was perfectly okay for us – or anyone – to record.

Within a few weeks I arranged a recording session. This next part will surprise a lot of people but the first time I recorded "Double Shot" was in very late 1965 or early 1966 for – are you ready for this – Sam Phillips in Memphis, Tennessee! I still have the dub. Sam said he would release it or have us come back to improve upon it; it did need more work.

Sam made of the more serious mistakes in rock and roll during the next few weeks. After approximately a month Rick Hall from Fame Records, where we had recorded "Charlena" a year earlier, said Sam had called him and told him that his opinion was that "Double Shot" would be a local hit in Alabama for us and a local hit for The Medallions in South Carolina! Rick disagreed with Sam and wanted us to record it for him immediately. I cancelled all plans for the next week and we set a date.

Here, again, one of those things that change history forever happened. Rick's secretary called and said Rick was sick and told me that we would have to delay the recording session for a week. The next week he was worse and we delayed it another week. They called again the third week and said Rick had pneumonia but that he had heard The Medallions were going to record for Mercury Records and he didn't want to delay the recording any longer. He wanted us to come up and record "Double Shot" with one of his songwriters, a guy named Dan Penn. I asked, "Who the Hell is Dan Penn? I want you to handle it." But it was to be the first record Dan produced. He did a good job. It was his idea to use the fuzztone on the guitar. Spooner Oldham made some suggestions also. Both of them went on to outstanding careers.

Rick was to get us on Atlantic Records in short order and the single went nationwide on their Bang label. Due to Rick's illness The Medallions record had reached radio stations all over the United States three days ahead of us. This made a big difference to some of the stations. A great many of them played both versions and asked the kids to let them know which one they liked best. The stations that did this told me we beat The Medallions about 90% to 10%. Bert Berns had a full-page ad in the March 26, 1966 Billboard Magazine.

The song did well in Miami (#1 or #5?). When we played in Tampa the radio person told me they received both version of "Double Shot" at the same time so played both and asked the kids to call in. We received 97% out of each 100 votes. He also said he had been under pressure to report just the opposite and told me he had to do just that if he wanted to keep his station open. This (same thing) was repeated to me at other locations. A local record store in Auburn, Alabama kept ordering our version but kept receiving The Medallions' version. I found out later that this was a way to stop distribution and therefore sales! This is what happened; no sour grapes, though – I've done extremely well. The pros in Muscle Shoals tell me "Double Shot" should have reached the Top 40 only – not reached #17. I will believe to my dying day that both versions should have gone to the #35 or #40 position and probably did…but if you take the air play and sales from both groups you wind up with a #17 position.

I thought we were off to the big time. Indeed, Fame Studios with Dan Penn producing again had us record several songs for an album but, alas, another ironic twist of fate happened. The song that we were to release next and which we recorded during this session was "I'm Your Puppet." Dan said if we were able to get high enough on the charts we had it; if not, two guys from Pensacola – the Purify Brothers – would get to release it. I believe the song became the biggest hit Dan Penn ever wrote! You can see the tear drops…can't you?

We started playing at all the popular teen centers and frat parties. The biggest shows we played were the Big Bam Show (WBAM) in Montgomery; WVOK Show in Birmingham; and WAPE "The Big Ape" in Jacksonville. We played the Brandon Armory is Tuscaloosa and at the West Point, Georgia teen center; the Alexander City, Alabama Recreation Center; and at Buddy Buie's in Dothan, Alabama. The biggest nightclubs we played – in prestige, not in size - were the Whiskey A-Go-Go in Atlanta and the Civic Center in Mobile. We also played in Tifton, Georgia; the Sandpiper Club (and one other) in Pensacola; Big Mack's teen center in Tampa, and places in Jacksonville Beach and Miami Beach.

I handled all of the band's bookings, recordings, and personal management until early 1966. At that time "Double Shot" was doing really well and we needed to move on up. We had initially signed recording contracts with Fame Studios in 1965 and in 1966 signed management and recording contracts with Buddie and Bill Lowery in Atlanta. A list of groups and personnel managed by these guys at the time read like a "Who's Who" of rock and roll: Roy Orbinson, The Candymen, Tommy Roe & The Roemans, Billy Joe Royal, The Classics IV, Joe South, and The K-Otics. Buie later combined guys from The Classics IV and Candymen and I believe some others to form The Atlanta Rhythm Section.

Our sound was rock and roll with influences from The Beatles, Stones, Otis Redding, and Roy Orbinson. I don't know how to describe a "child prodigy" but our lead guitar player at the age of eighteen could play extremely well and could watch another good player – Mitch Ridder, for example – and immediately play just as well. How good did we become? I can only mention the things we were told. The crowd always told us that we were the best band they had ever heard. Do fans tell you that anyway? Perhaps – but the accolades came from fans and fellow musicians. If we announced that we were going to be in a battle of the band contest no other bands showed up; we therefore had to decline offers! We played in, I believe, Macon, Georgia and the crowd said we were the best they had ever heard. One guy, a musician, said he heard a group in Jacksonville that might be just as good as we were. This, of course, got my attention. How could he say such a thing? He said they did something he had never seen before. I asked, "Like what?" He replied they had double lead guitar players and that while our vocals might have been better and our guitar player may have been the best he ever heard the double leads were fantastic! I asked who they were. He said their name was something "like The Almond Joys (Allman Joys.)" I said, "Sounds pretty dumb to me!" The rest is history!

Another recent reference came from Greg Haynes, who is completing a book/music project called The Hey Baby Days of Beach Music. Greg remembers going to see a big name group in Macon in 1966 and telling one of the people he met there how good he thought the band was only to have the guy reply, "you haven't heard anything until you go over to Alabama and hear a band called The K-Otics. Greg's project should be completed soon. Our first record "Charlena" was supposed to be a big part of it but Rick Hall refuses to release it!

The K-Otics broke up because of the Vietnam War. The bass player and I were in the national Guard and had to report for active duty training and upon our return some of the members had left while others had joined other bands. For example, Kim Venable and Lawrence Shawl joined The Classics IV ("Spooky", "Traces"). Marvin Taylor joined The James Gang and later was in a group called Moses Jones who toured extensively in the northeast. He now plays in Atlanta with a former member of .38 Special in a group called Java Monkey.

Fate seemed to determine who made it big and who didn't during that time in music more than at anytime before or since. One situation that points this out is this: I hired a keyboard player in 1965 who was young and still learning to play. My guitar had no patience with him and was always trying to get me to fire him. One night, as we were leaving a gig, we backed up the car and ran over the guitar player's guitar. It seems that the keyboard player was supposed to put the guitar in the trunk! The guitar player tried to strangle the keyboard player and I had to pull him off. He said, "You're going to have to fire him or I'm going to kill him." I went to the back of the car and told Ed, "I'm going to have to fire you or Marvin is going to kill you." Ed said, "I know it, Tommy." After I fired him, Ed went with another local band then on to Los Angeles and founded The Sandford Townsend Band. He co-wrote "Smoke of a Distant Fire" which I believe went to #9 on the charts in the '70's.

I currently play a little guitar and sing with a friend locally here on lake Martin. I retired at age 52 after 25 years in Human Resources. I sing in the same choir (not with the same people of course) but some members are there, however. I ride in the boat during the summer and also play a little golf. I'm still married to my lovely wife pat and have two children, Thomas Mann Jr. and Angela.

I had a local studio make a CD of five of our records – the ones actually released on vinyl. The album is called "Double Shot", of course. These are the only recordings I have; our last recording session at Fame Studios was lost over the years.

My experience with The K-Otics was wonderful. I'm not the first one to say it, but there was something in the air during those times that has not been here since and sadly will never be here again.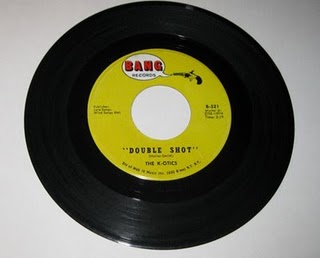 Here are two K-Otics songs. You know 'em well.....

THE K-OTICS - Double Shot (Of My Baby's Love)
(1.66 MB - MP3 format - total length: 1.49)


THE K-OTICS - Charlena
(2.06 MB - MP3 format - total length: 2.14)



ARCHIVE:

OCTOBER 2014:

THE TOWNSMEN - Monkey Time


THE TOWNSMEN - It's True


CHARLES "ROOSTER" GALLAGER & TOWNSMEN - Hold It; Mr. Pitiful [LIVE]


SEPTEMBER 2014:

LEN WADE & THE TIKIS - I Was Doin' Alright
LEN WADE & THE TIKIS - Traveling Shoes
LEN WADE & THE TIKIS - Cloudy Skies


AUGUST 2014:

LARRY & THE LOAFERS - 'Till the End
LARRY & THE LOAFERS - Panama City Blues
JULY 2014: BAKER KNIGHT - High School Days
BAKER KNIGHT - These Songs of Yesteryear
JUNE 2014: CHARLES SMITH & THE COACHMEN - Going Wild
CHARLES SMITH & THE COACHMEN - Hard to Find
MAY 2014: BOBBY MIZELL / GLEN LAYNE - Sunset Blues / B. MIZELL - Heart and Soul
APRIL 2014: BOBBY EDWARDS - You're the Reason
MARCH 2014: DALE SERRANO - Ou We Man
FEBRUARY 2014: BOB CAIN & THE CAIN-BREAKERS - Butterbeans; Hey Little One
JANUARY 2014: THE BLEUS - Just Don't Know What To Do With Myself
DECEMBER 2013:

SHARON WYNTER - We're Breaking Up Again; Bad Dreams


NOVEMBER 2013: BAKER KNIGHT & THE KNIGHTMARES - Bring My Cadillac Back
OCTOBER 2013: JERRY WOODARD - Long Tall Texan
SEPTEMBER 2013: THE TORQUAYS -- Pineapple Moon

---
BIRMINGHAM RADIO CLIPS OF THE MONTH
September 2009 - August 2013
:

August 2013: WSGN 610 - August 18, 1968: Jim Taber's last show
July 2013: WYDE 850 - October 1984: Lee Masters (final show)
June 2013: WAQY 1220 - August 9, 1969: James Enright
May 2013: WYDE 850 - January 1976: Duke Rumore
April 2013: WVOK 690 - January 1976: Joe Rumore
March 2013: WSGN 610 - March 18, 1967: Steve Norris (Sat. evening)
February 2013: WSGN 610 - February 16, 1973 - final Steve Norris show
January 2013: WMPS 680 (Memphis, Tenn.) - 1977: Jon Anthony [tribute to JRRA]
December 2012: WAPI 1070 - December 1953: West End High School play
November 2012: WSGN 610 - November 1972: composite (Davis / Bass / Kincaid)
October 2012: WSGN 610 - October 4, 1967: Dick Kent
September 2012:
WERC 960 - February 1979: Coyote Calhoun
August 2012: WKXX 106.9 - May 1979: Charlie Martin (Steve Davis sub)
July 2012: WENN 1320 - 1966 & 1967: Weldon Clark & (unknown)
June 2012: WSGN 610 - August 1972: Amaysa Kincaid; Scotty Brink
May 2012: WVOK 690 - March 19, 1967: Johnny Hayes ("Dixie Hits")
April 2012: WSGN 610 - April 9, 1977: Johnny King (Easter afternoon)
March 2012: WAQY 1220 - March 18, 1967: Doug Layton
February 2012: WSGN 610 - May 24, 1969: Steve Norris
January 2012: WBCO 1450 Bessemer -- January 1957: "Spider"
December 2011: WAPI-TV 13: Cousin Cliff - December 25, 1961
November 2011: WERC, 01/21/76 ... Dick James, Jim Christian
October 2011: WZZK(FM) ... November 1982 station composite
September 2011: WAPI-FM -- "FM 95", September 1984: McCarthy/'Deah'
August 2011: 1955 Dial scan (from Montgomery, Ala.) - WVOK, WEZB, WILD, et al
July 2011: WERC-FM - July 1976: "Dapper Dan", 11 PM hour
June 2011: WAPI-FM "95 ROCK" - October 1982
May 2011: WSGN JINGLE MEGAMIX: 1950s - 1980s
April 2011: WSGN 610 - April 25, 1985: Steve Price, Orlando Beavers; final minutes!
March 2011: WAPI 1070 - 1943: Stanleigh Malotte "A trip inside the Pipe Organ"
February 2011: WERC-FM 106.9 - October 1974: "Captain Jack"
January 2011: WSGN 610 - December 29, 1967: Jim Taber
December 2010: WSGN 610 ... Christmas party gag tape, 1960 (T. Charles)
November 2010: WAPI-TV 13 - November 25, 1961: "Popeye Show" audio
October 2010: WKXX 106.9 - March 1979: Charlie Martin
September 2010: WJLN 104.7 - September 27, 1973: Wayne Braden
August 2010: WSGN 610 - May 2, 1973; June 23, 1973: John Bass
July 2010: WYDE 850 - October 3, 1967: Duke Rumore
June 2010: WSGN 610 - June 29, 1964: Jim Taber
May 2010: WAPI 1070 - assorted aircheck clips, 1949-1965 rundown
April 2010: WAQY 1220 - March 12, 1966: Layton & Charles show
March 2010: WYDE - early 1960: Sam Hale "House of Hits"
February 2010: WSGN - Bill Bolen newscast, 06/16/1964 - 10:55 a.m.
January 2010: WERC 960 - August 22, 1973 (debut of top-40 format)
December 2009: WKXX 106.9 - 1978 Profile / WKXX 106.9 - 1979 Profile
November 2009: WVOK 690 - 10/28/1949: Joe Rumore & Jean Foster
October 2009: WSGN 610 - 09/30/1949: "Quiz Man" w/Pappy McDonald
September 2009: WVOK 690 - 10/03/1949: "Hi, Neighbor Time" with Joe Rumore