October 1977
---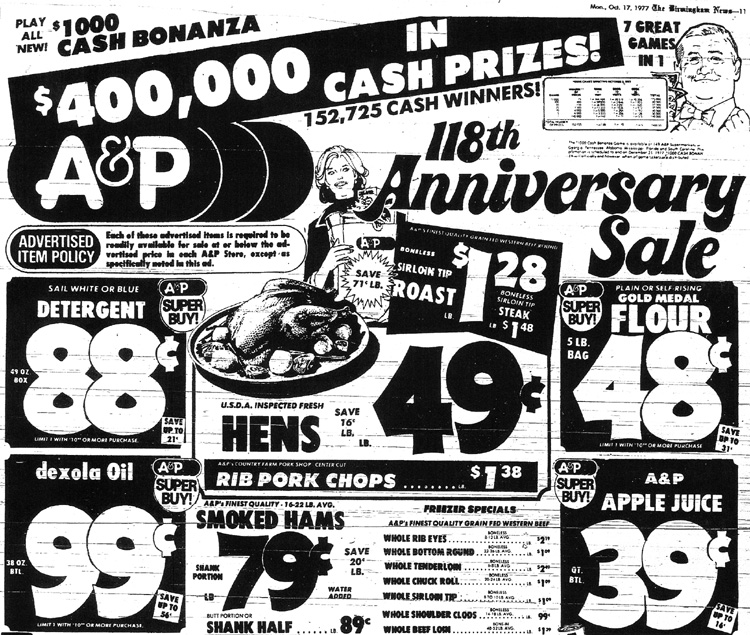 The competition was beginning to thicken. "Price" and "Pride" couldn't take the pressure. A&P would be gone from Birmingham by 1980, although they stuck around in smaller Alabama cities well into the 1990s. Evergreen was the last A&P store in the state to close, I believe it was 1998.

---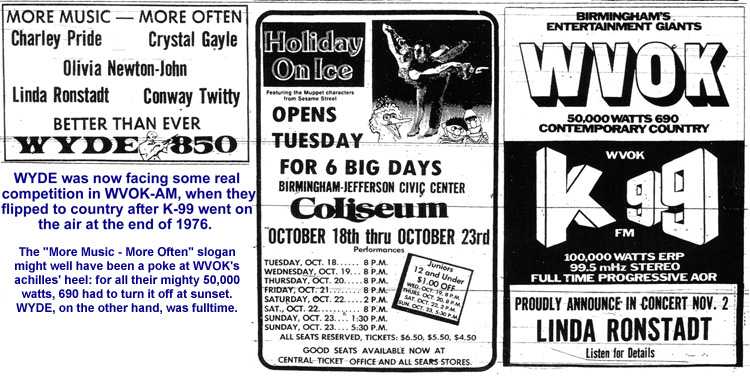 If it ain't broke, don't fix it. 30 years later, CFA hasn't changed a bit. As good now as it was then.
(I'm guessing the Brookwood Village store wasn't participating in this promotion?)

The restaurant is long gone, but a billboard lingers on.

This can be found along old US 280 west through "The Narrows." It was downgraded to a county road after 280 was realigned to its current four-lane route in about 1981.

And, out-of-sight and out-of-mind (except for some vandals), the fisherman still waits for sea sustenance.

(Photos by Russell Wells, 10/06/2007)


Why was a FORD dealer co-sponsoring this "concert"? I thought The King liked Caddys....

See all the scary ghosts and goblin---
What the--??? How did WSGN's DJs get in here?

.




---





---




Luke, I am your plagiarizer.

---


Kentucky Fried Movie is notable as the first film by the comedy team of Zucker/Abrahams/Zucker, who would be most famous for Airplane! in 1980, and for The Naked Gun movie series.

KFM is a true 'midnight cult classic' ... it's not so much a movie as it is a series of movie, TV and commercial spoofs all strung together. It includes as its 'main feature' a brilliant and spot-on parody of Bruce Lee films ("A Fistful of Yen").

See it in action!!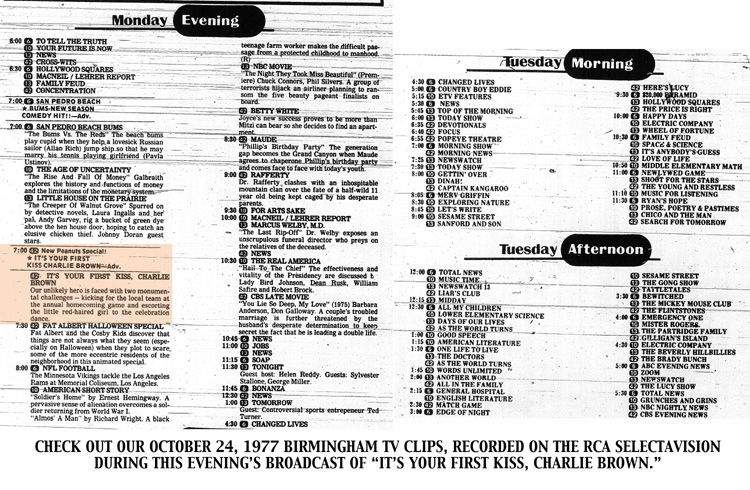 Tim Hollis and his SelectaVision. Makers of all kinds of neat-to-watch treats!
(watch, or else he'll move your nose to another part of your face)

---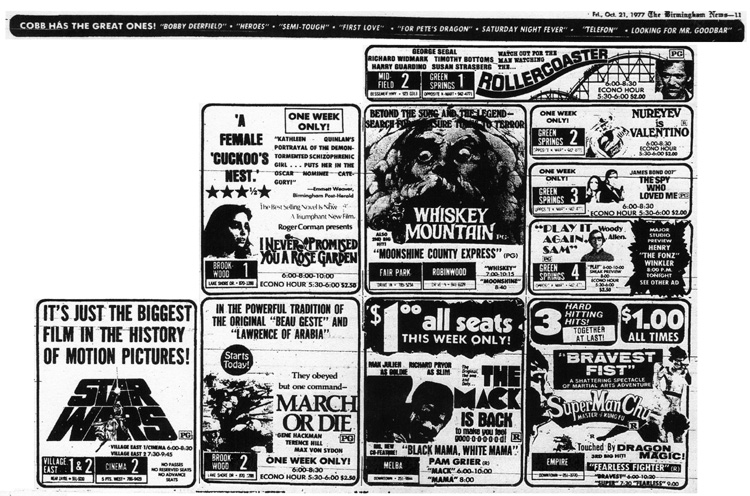 ---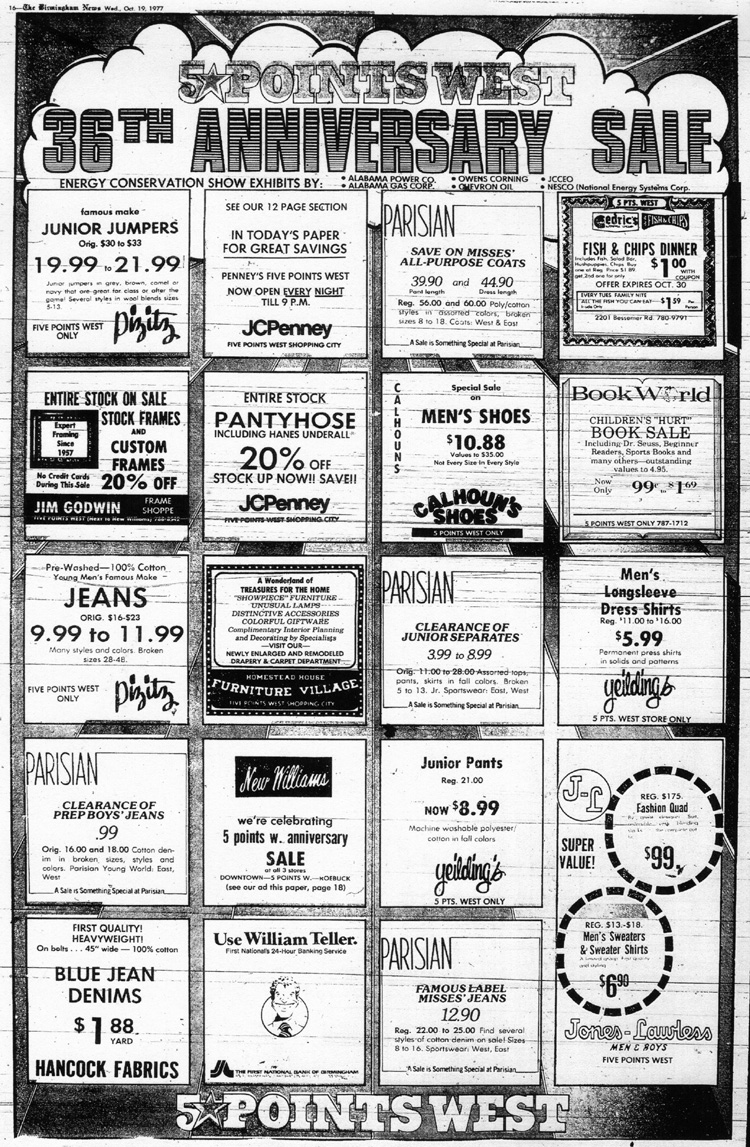 ---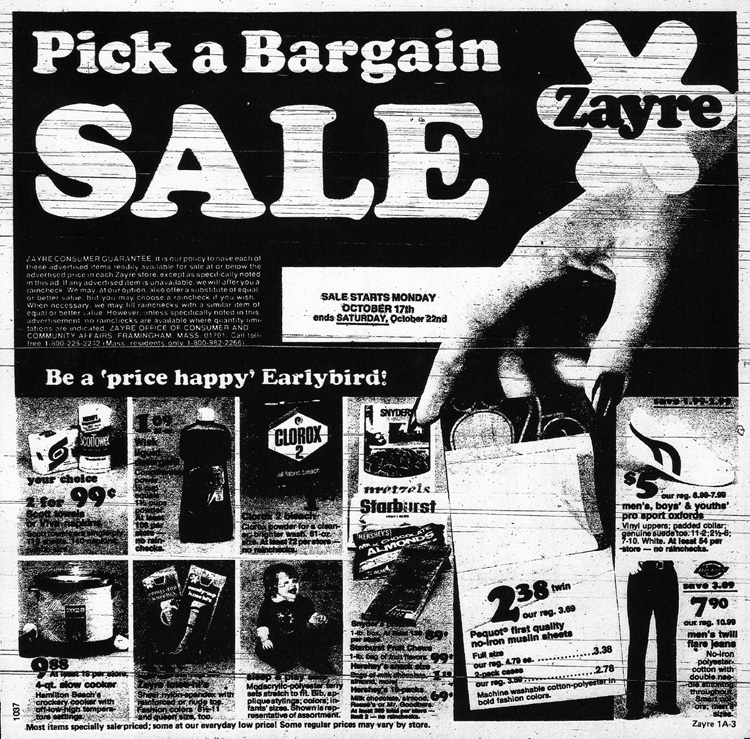 ---

10/08/2007 -- 417 PM EDT

OCTOBER 1947 | OCTOBER 1957 | OCTOBER 1967 |
RETURN TO "THIS MONTH" PAGE