Aye yi yi! '70s family portraits.
The girl looks to be a year or two older than I am (I was 12 years old in 1977), and Cousin Oliver today is navigating his 30s.
Of course, I shouldn't talk.....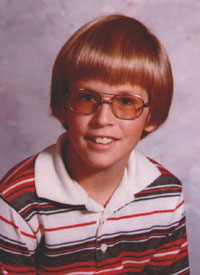 Here is Your Webmaster in 1977.
(Orthodontists, you can stop drooling; the overbite is long gone)
The important thing is, we SURVIVED being kids in the 1970s. Wish I could say the same for the hair.