April 1967
---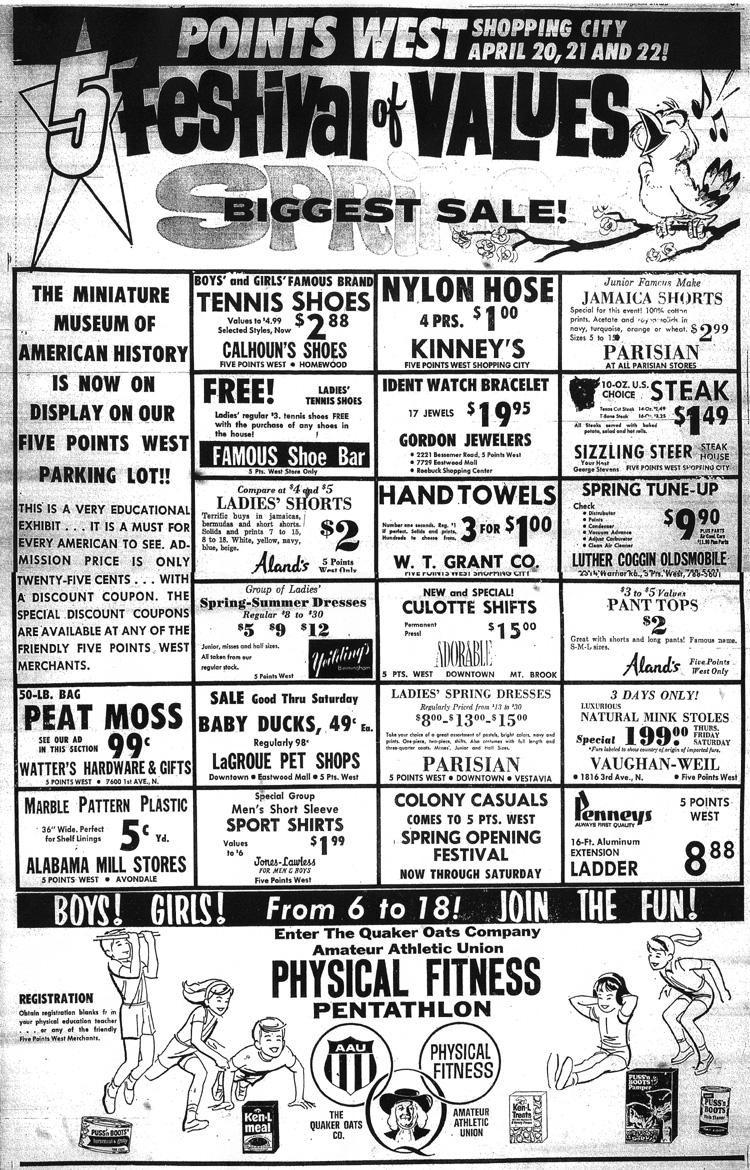 In April '67 I don't think anyone in Birmingham was saying, "I can't seem to find a movie which interests me." Take a look - just about everything is covered from "adult audiences" to The Bible!

Ahhhh, family entertainment............



You mean a hospital cafeteria actually served good food? Say it ain't so. And, if you were in Vestavia during the lunch hour, you could have a tasty buffet with tea for $1.09!

(RIGHT) Sorry, it's not BUSTER BROWN shoes. You'll have to hit Sike's or some other other shoe store for those.

Historical note: April 3, 1967 --
40 years ago this month -- FULL COLOR television came to Birmingham when WAPI-TV became the first station to colorcast all of its local programs.

Of note amidst this Saturday cartoon heaven are the competing cash-ins on The Beatles: the ABC cartoon series based on the group itself...


...versus CBS, who -- not to be out-Fab Four'd -- counterprogrammed with ... THE BEAGLES:

"Stringer" and "Tubby", who played pop music in the British Invasion tradition, didn't last very long! Channel 13, who had first pick of both CBS and NBC, let 42 have that one. Surprise, surprise.


In a word? Ewwwwww.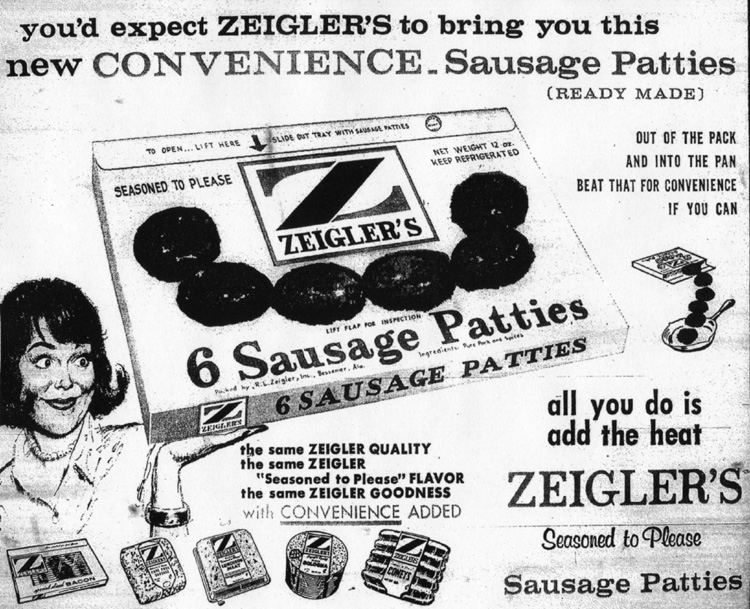 ---
WAPI used to advertise its on-air personalities in newspaper ads. The station harnessed the power of print to help keep a step ahead of its competitors at 960 and 1260 on the dial (WBRC, WCRT).

Do you remember listening to Charlie Davis and Ron Carney? I don't -- for starters I was too young (I was only 2 in April '67) ... also as a youngster I, like many of my peers, found all the "adult middle-of-the-road" stations to be unhip, stodgy and boring. However, were I to have been 42 (my present age) in 1967, I'm sure my dial would've been either at WAPI or WBRC. WSGN was cool and all, however by my age I presumably would've 'outgrown' all the top-40 formatics, the music and the attitude.

In recent years I've come to appreciate this kind of radio long after the fact. It's adverts like this which make me want to go back in time and LISTEN. WAPI was the perfect 'adult' station. Great personality, news, sports, talk and music - everything a 'grown-up' could want coming out of the dash-top speaker of the Delco in their '67 Impala. And on the weekends, WAPI carried NBC's Monitor - a hodgepodge of music, personalities and features, a forerunner to Morning Edition and All Things Considered on Public Radio. (If you want a taste of what we as a nation no longer have on the weekends, pull up this website: www.monitorbeacon.net. You can download clips from the program and enjoy what used to be)

I've read anecdotes about the witty personality of both Charlie Davis and (especially) Ron Carney. As of yet, though, I've been unsuccessful at finding any recordings - "airchecks" - of WAPI or WBRC. If you know where any exist, please (!) consider sharing them with REWOUND.

It's unfortunate that radio like this doesn't exist today. It's been replaced by bland and boring "adult contemporary" FM stations, and AM "Talk Radio" of both conservative and liberal persuasions -- fatiguing to listen to, with all the foam-at-the-mouth blowhards, arrogance and preaching-to-the-choir.

A friend of mine said recently: "There's more money in programming to our worst vices than to our better instincts."

[Editorial over] --Russell

---

03/30/2007 -- 1243 PM EDT

Ready for the '70s? (don't worry, it's only virtual)
GO TO APRIL 1977 | RETURN TO "THIS MONTH" PAGE