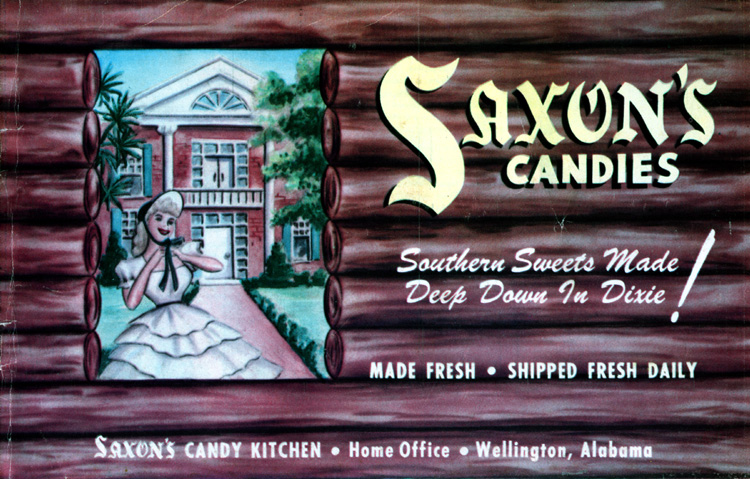 Saxon's: A Centennial Tribute to Cora Saxon
By Aaron Tanner
Hello, readers of BIRMINGHAM REWOUND! For those old enough to remember when interstates were rare or nonexistent in Alabama, get ready to go back in time to the Saxon's roadside candy store chain that made even the heartiest adults feel like the proverbial "kid in a candy store."
Across Alabama, Saxon's large red and white candy cane sign caused drooling motorists to pull over and sample some of Saxon's sweet confectionary. Nicknamed the "Candy Box," Saxon's offered a chance for locals to purchase candy for special occasions while allowing snowbirds from the Midwest a respite from the long drive to and from Florida. The candy and the stores were founded by husband and wife team Henry and Cora Saxon.
How did Saxon's candy get started? It began during dinner at the Saxon family home in Birmingham in 1939. Henry was sampling some candy products made by a popular Birmingham candy maker, Pop Kavenaugh. Pop was friends with the Saxon family and owned a candy store near their home. Both Henry and Cora thought someone could make a profit if Kavenaugh's candy was sold over a wider area.
While Cora went to clean the kitchen, Henry went to the living room to read the newspaper. Kavenaugh was getting ready to retire and had decided to place an ad in the newspaper, announcing that he was selling his recipe to two specific people. Immediately, Henry realized the two people Kavenaugh was talking about, and became very excited. Cora was delighted by the good news as well. Kavenaugh knew the couple had the passion to keep his recipe going. The recipe, with a few modifications, lead to the creation of Saxon's Candies.
The Saxons first sold their candy through mail order, as well as in local dry goods stores and pharmacies in the area. World War II made it very difficult for Cora and Henry to get their candy business off the ground. Many of the ingredients they needed to make their candy were being rationed for the war effort. As a result, the Saxons put their business on hold for the duration.
After the war, men returning home from the military were very eager to start families and travel across the country due to the increased income and leisure time. Many Midwesterners passed through Alabama on the way to Florida. The Saxons took advantage of the increased tourist trade and opened their first store, a walk-up roadside stand, in 1947, halfway between Gadsden and Anniston in the small town of Wellington on what was then U.S. 241.
(To get off subject for those who do not remember U.S. 241, it was created in 1930 by the federal highway department and stretched from Murfreesboro, Tennessee to Dothan, Alabama. The route followed roughly the same route as today's U.S. 431 through Alabama. The only difference was that once the highway got to Anniston, U.S. 241 followed present-day Alabama Highway 21 through Talladega down to Sylacauga, where it turned east onto present day U.S. 280 through Alexander City and Dadeville down to Opelika. From Opelika, U.S. 241 continued down to Dothan via Phenix City and Eufaula. When U.S. 241 was decommissioned in 1954, the route in front of the Saxon's store became U.S. 431.)
The success of the original stand caused the Saxons to build a larger location with a walk-in retail area to sell their candy. In 1953, a gift shop with souvenirs for tourists and a restaurant were added to the store, which boosted sales even more. When one first walked into the stores, customers were greeted with jars of chocolates and candies and the warm and friendly smiles of Cora and Henry.
The success of the Wellington store allowed for more stores to be built across Alabama and parts of Georgia and Tennessee. According to the best information at our disposal, the Saxon's chain had approximately forty locations at its peak. Motorists were directed to Saxon's with large billboards depicting a giant piece of candy such as a pecan log or praline and stating how many miles the motorist had to go until they reached the tasty paradise.
After 1955, all Saxon's locations had a gift shop and a restaurant. One essential road trip commodity that Saxon's did not offer regularly was gasoline; only two of the stores sold gas. Henry ran the business operations of the store while Cora oversaw the production, shipping and kitchen operations. Cora's daughter Peggy Wright helped out at the store as well.
The stores never had one uniform design for all of the buildings. This is because most of the locations were located in buildings already standing, and were renovated instead. Only a few new stores were built. These newer locations had bright red roofs. In the later years, most locations had a giant twenty-foot neon candy cane roadside sign to attract motorists.
Popular items sold at Saxon's included peanut brittle, fudge, pecan logs, pralines and "heavenly hash" (a mixture of marshmallows dipped in chocolate and almonds). If one could not decide which type of candy to buy, Saxon's had candy assortment boxes that featured samples of different candies for one to try. Saxon's had non-candy food products for sale too, including homemade pound cake, hams, turkeys, jams, nuts and honey in decorative jars. Although most of the sales were done inside the stores, Saxon's also did a brisk mail order business.
Out-of-town motorists enjoyed the Saxon's at Wellington for its spacious front lawn with swings and chairs. Cora would treat weary tourists to lemonade and samples of candy. Some of the children who visited the Wellington location had never seen a spacious lawn before and were so happy when they saw the big yard of green grass that they did not want to leave. Local people also enjoyed buying Saxon's products for special occasions.
Cora spent many hours in the kitchen cooking. She enjoyed experimenting with new recipes and making new products. She put a lot of work into making high quality candy products and making sure that their customers and their staff were treated well. Many of the workers stayed for years. Cora also made friends with the customers who stopped by her store as well.
In 1966, the widening of U.S. 431 and the need for a larger production area caused the Saxons to move their store to a new location a couple of miles from their original store up U.S. 431. The new factory featured a mail order room, a chocolate dipping room, a packing room, a kitchen, a shipping room and a room where merchandise was received. The retail front with souvenirs and the restaurant were not at the new factory.
Things were going well until Henry Saxon was killed in an automobile wreck in November 1968. With the death of her husband, Cora was now in charge of producing the candy and overseeing the marketing and business aspect of Saxon's. As hard as she tried, Cora could not keep up with the responsibility of running the stores while making the candy at the same time. As a result, Cora let the leases on the Saxon's stores expire and close.
After the chain of stores went away, Cora spent most of the 1970s making the candy and shipping it off to customers via mail order and select gift shops. For a while, the mail order business went well. Unfortunately, a couple of other events happened that would ultimately spell the demise of Saxon's candy. First, Cora sold the business to someone else, and unfortunately the new managers did not do such a good job in managing Saxon's candy line. Second, the ingredients needed to make Saxon's candy grew to be too expensive to make the product cost-effective. Cora decided that it was not worth reducing the candy's quality, and ended production of the Saxon's line in the late 1970s.
Who ever thought that Cora would live long enough to see the transition from horse and buggy and model T's on dirt roads to hydroelectric cars on paved roads? Who knows all the possibilities that could have happened if Saxon's Candies existed today along with the internet, HDTV and MySpace? The world may change and technology may allow our lives to become faster and more sophisticated, but one thing that will never change is the memory of heavenly hash and praline logs that Cora worked so hard to make, so that Saxon's customers could leave her store with a smile, and the care and kindness she showed to everyone who came in her store.
Happy 100th birthday, Cora Saxon, from BIRMINGHAM REWOUND!

Mrs. Saxon has graciously offered pictures and images
from her family's archive. We invite you to browse through Saxon's proud history...
GO TO SLIDESHOW
Page created 03/05/2008 -- 930 PM EST