That two-year discrepancy did not matter much in the long run, as the Lyric would have shamed the earlier theaters no matter when it opened. Built for the prestigious Keith vaudeville circuit, the Lyric sported ornate balconies and wall ornamentation, and from its opening day featured some of the biggest acts on the road. On opening night, the headliner was cartoonist Rube Goldberg, and he was soon followed by another famous gag man, Bud Fisher of the Mutt and Jeff comic strip. Others who played at the Lyric during its first heyday were Will Rogers, Sophie Tucker, Jack Benny, and Fred Allen.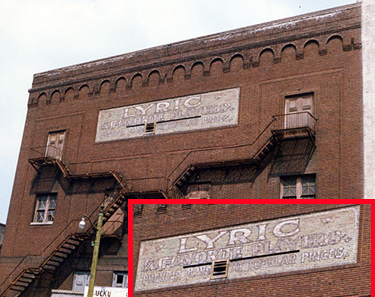 After the arrival of the Lyric, the older vaudeville theaters began closing up one by one. The repertory company from the Jefferson Theatre transferred their allegiance to the Lyric, where they became known as the Favorite Players. (Look closely at the Eighteenth Street side of the Lyric building even today, and you will see a fading sign painted on the brick, advertising this troupe.)
However, the combination of the dual arrival of the Great Depression and the double sock of radio and the movies rang a sour note for the Lyric. In late 1930 or early 1931, it closed its doors as a vaudeville theater, and reopened in April 1932 strictly as a movie house. (Just to indicate how show business was changing, the Keith vaudeville circuit had eventually merged with the Orpheum circuit to become known as Keith-Orpheum. This entity then hooked up with David Sarnoff, head of the NBC radio network, to form a new movie studio known as Radio-Keith-Orpheum, or RKO Radio Pictures. The movies were winning, there was no doubt of that.)
The Lyric survived on showing second-run features that had already played the other downtown theaters until it was closed again, this time in either 1958 or 1960, depending upon what source one consults. In any case, it looked like the end had come.
Around 1964 there was some talk of renovating the Lyric, but nothing happened until 1973, when a couple of Jefferson State Junior College pals (and old movie buffs), Dee Sloan and Robert Wharton, got the bright idea to reopen the Lyric to show classic movies of bygone eras. Rather than keeping the Lyric name, which had no doubt become tarnished from its years as a second-rate showplace, Sloan and Wharton redubbed it the Grand Bijou, and set about to show such cinema milestones as The Jazz Singer and classics starring W. C. Fields and the Marx Brothers. While preparing the old theater to come back to life, the new movie moguls discovered that underneath the main floor was an enormous tank that would have been used for staging such vaudeville spectaculars as Billy Rose's "Aquacade." although there was no evidence that water acts of that type had ever appeared there.