The mall opened to much fanfare ... headlines blared "A new era for shopping in Birmingham." Quoting from one story that day: "Living comforts of the next decade have become breathtaking reality in the Heart of Dixie. These are sights of the 1970s about which other cities talk. In Birmingham, they exist. A masterpiece of shopping luxury never before seen in the Deep South."

Newman Waters made sure the grand opening was something to remember. The ceremony was emcee'd by Bill Bolen, then News Director of WSGN (and for decades a news personality WBRC-TV). Speaking were Mayor James Morgan and Gov. John Patterson. Singer and actor Vaughan Monroe was on hand for entertainment. Waters' 4-year-old granddaughter Lois Jolly had the honor of cutting the ribbon.

Three artesian wells were used to power a heat pump for Eastwood's ventilation system, keeping the temperature at an average of 73 degrees year-round. There was parking for 2,500 vehicles. Waters spared no expense ... he commissioned a local horticulturalist to furnish the interior of the mall to simulate the feeling of Spring. More than 200 tropical plants, ferns, trees and flowers were shipped in from Florida, at a cost of $5,000. Mr. Waters meant it when he said it IS always Springtime at the mall!

Among the initial tenants were Aladdin Cleaners, Bell Brothers Shoes, Colonial Stores, Duane's Shoes, Eastwood Barber Shop, Gordon's Quality Jewelers, Happy House Shops, Hill's Food Store (later to become Winn-Dixie), Kinney Shoes, S. S. Kresge (dime store chain which evolved into the present-day Kmart), Kroger, Lerner Shops, Liggett Drug, Kiddieland, Mall Record Shop & Appliance Center, J. J. Newberry's, Olan Mills, JCPenney, a Top Value Stamps redemption center, Wendy's Sportswear, and an Alabama ABC Package Store ... just in case you needed a stiff drink after the missus maxed out the BTNB charge card with all that shopping.

Eastwood Lanes, with its 'star' icon atop the sign, adjacent Funtown amusement area, and the much-fabled "Boom-Boom Room", was the finest recreational venue in Birmingham, boasting 48 lanes of bowling. A go-cart track was located at the other end of the mall.

The mall was a success. So much so that six months later, there was talk of an expansion. The 1960s would see three such expansions of Eastwood Mall.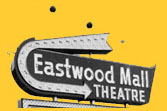 On Christmas Day 1964, The Eastwood Mall Theater opened for business. Originally it was a single-screen auditorium, equipped for Cinerama movies such as 2001: A Space Odyssey and Ice Station Zebra. Regular visitor and contributor Tom Frieling of Athens, Ga., and Birmingham native, recalls the first movie to be shown here was The Pleasure Seekers with Ann Margaret. The Eastwood Mall Theater would challenge the '20s-era Alabama Theater downtown as the most popular place to catch a movie. A breezeway connected it, Hill's Winn-Dixie Food Store, and a new Pasquale's Pizza.
The next year, another expansion added Camera World, Barber's Cafeteria (later longtime fixture Pioneer Cafeteria), a furniture store and a bookstore. And in 1966, the go-cart track was sacrificed in order to add a feature now common to shopping malls: an anchor store. Iconic Birmingham retailer PIZITZ opened a giant department store on the east end of the mall. The footprint that Eastwood Mall would have for many years was now in place.
* * * * * * * * *


In 1968, Newman Waters sold Eastwood Mall to Farm Bureau Insurance (today known as ALFA). The mall prospered into the 1970s, despite competition entering the picture on the west side of town, first with a "mini-mall" addition to Five Points West in 1968 (also anchored by Pizitz), and a year later with the opening of Western Hills Mall. And around this time, the Starlite Drive-In was closed down, demolished and replaced with Eastwood Plaza, a companion strip center. Kmart was its anchor, and still operates today.
In the mid '70s, the Mall Theater followed many other single-screen venues and split its auditorium in half in order to offer two screens. Other cosmetic changes to the mall included the addition of carpeting, and a drop-tile 'suspended' ceiling over its corridors.
1975 saw Brookwood Village (Alabama's first two-story mall property), straddling the suburbs of Mountain Brook, Homewood and Vestavia Hills. And in 1976, Eastwood Mall was faced with a new rival ... this one located diagonally across US 78 from the mall itself: Century Plaza. Brookwood and Century were of the new style of upscale "bland box" malls, and provided quite a contrast to the now quaint single-story Eastwood ... with many of the interior tenants maintaining outside entrances.
In the early 1980s, Pizitz left Eastwood and moved across the way to Century Plaza, taking over the anchor spot vacated by Loveman's when that department store went under. Service Merchandise soon took over Pizitz's old location.
Pizitz', however, kept its Eastwood Mall auto service outparcel for a number of years afterward, even after selling out to McRae's in 1986 (later it would become a Goodyear store before closing altogether; while Goodyear insignia remained visible on the building's exterior, along its back wall was a label-scar for McRae's).
Despite its outdated design, Eastwood Mall continued to hold its own. Farm Bureau sold the property to Jim Wilson & Associates in September 1984 -- the same company who would develop Alabama's largest shopping mall, Riverchase Galleria, in 1986. Plans were to begin modernizing the aging mall by the late '80s.
* * * * * * * * *


1989-90: Eastwood Mall receives a top-to-bottom facelift, adding a food court, a Books-A-Million store and an even larger store for Parisian, an Eastwood tenant since 1969. This second anchor was built into the mall in an unusual diagonal position. This gave Parisian two separate inside entrances. At the same time, with the increasing popularity of multi-screen cinemas, the venerable Eastwood Mall Twin was closed.
Eastwood got a second wind with its new, improved look. The food court had a beautiful atrium, and a giant bank of video screens. Both it and Century Plaza were successful well into the '90s.
But at the end of the decade enclosed shopping malls began falling out of favor ... open-air "lifestyle centers" are now becoming the preferred mode of shopping in many places. The first major open-air venue in Birmingham was The Summit, making its bow in 1997 in the south suburb of Hoover. The Summit is credited by the International Council of Shopping Centers as being the first "lifestyle center" in the country. Another bold step for Birmingham!
With The Summit, Birmingham appeared to be past the saturation point. There are only so many shopping venues a market can profitably handle. The laws of Darwin soon went into play, which began hurting both Eastwood Mall and Century Plaza. Century held in at first, but Eastwood -- by now owned by investment outfit Lehman Brothers -- started hemorrhaging tenants, without any to replace them. One by one they vacated, and by 2003 Eastwood Mall was down to its last half dozen tenants. In spite of what was already an empty void throughout the heart of the mall, Eastwood had become a popular venue for senior "mallwalkers", taking advantage of a well-lit, clean and safe environment to exercise and socialize.
That wasn't enough. The costs of maintaining and controlling the climate for a large section of the mall not generating revenue led the management of Eastwood to close the interior on 1 August 2004.
Lehman Brothers had been in talks with several retailers over the last several years, in a futile effort to jump-start the vintage property. Those efforts were further hindered when another nail in Eastwood's coffin occurred in January of 2005: sole remaining anchor store PARISIAN closed its doors (an event hitting close to this writer's family tree. My aunt worked at Eastwood's Parisian for almost 20 years).
Party City closed its doors late in '05, and Books-A-Million wrote its epilogue Saturday, 25 February 2006.
All of Lehman's efforts to revitalize Eastwood Mall failed. Wal-Mart struck a deal to purchase the property where Eastwood Mall sits, and planned to develop a new shopping venue, anchored by a "Supercenter."
Demolition of the outparcel buildings, including the old Eastwood Lanes, began late in May of 2006. And the taking down of the big building itself, air conditioned sidewalks and all, took place over the course of that Summer.
The Wal-Mart Supercenter, centerpiece of the new Eastwood Village, opened to much fanfare on Wednesday, 24 October 2007. Fortunately, Wal-Mart recognized the historical and sentimental value of that plot of land. Local Wal-Mart management graciously allowed Mr. Maury Levine and his group "Friends of Eastwood Mall" to design and put together a shadowbox, paying tribute to the former mall, with some pictures and a capsule history of the property. It currently sits near the front of the store.
[Century Plaza would not survive much longer. It too bled tenants, Rich's (since acquired by Macy's) locked up and bailed, and with Sears' closure on 31 May 2009, another of Birmingham's shopping malls joined Eastwood in retail's past tense.]
While the South's oldest indoor shopping mall may be gone, Mr. Waters' legacy lives on; the new center is called Eastwood Village. Still, this writer is among many who mourn the passing of a piece of history, a very distinctive "first" and ambitious act of progress and forward thinking in a city all too often struggling with her past demons.
Eastwood Mall was more than just another cookie-cutter indoor shopping center; to the Magic City of the '60s, '70s and '80s it was an experience. The "E" will live forever in our memories and our hearts.
********* text by Russell Wells
###
Source for most early information: "Skeptics scoffed, but Eastwood Mall prevailed", The Birmingham News, Wednesday., 09/11/1985., among other articles in a special promotional section commemorating Eastwood's 25th anniversary.
Other information for this page came from correspondence with Tim Hollis, Thomas Frieling, Mrs. Ira E. Wood and personal recollections.

---
Pictures | The area | Memories | The end | HOME
Page constructed 11/05/2004 -- 1205 AM EST
UPDATED 02/05/2011 -- 740 PM EST