EASTWOOD MALL PHOTO GALLERY #9
Pictures of the property and ongoing demolition,
taken by Josh Brasseale on Wednesday, June 14, 2006.
** WARNING TO MY FRIENDS AND VISITORS WITH DIALUP CONNECTIONS:
THERE ARE LOTS OF PICTURES HERE ... BE PATIENT, AS THIS ONE WILL TAKE AWHILE!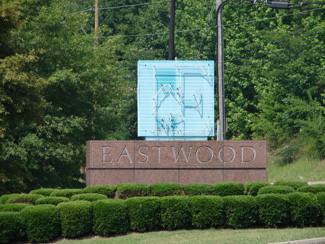 Okay, WHO has possession of The Golden Es??!!
At this point I'll step back and let most of the pictures do the talking.......

Close-up of first sign from door above right.


And of the second sign. (You litterbug you).


The Dilly's sign is now gone. Any hopes of its restoration are dashed, according to this photo


Behind lane #44. If that was your regular lane on league night, here's a rare - and sad - look from behind the wall.


Okay, pin boy, those are the pin numbers.
Learn them. Know them. Live them.

Closeup of the plaque visible in picture above left.
This must've been the plate for some of the AMF bowling equipment. I'm not sure on the name here -- "Radaray"? "Radarey"? "Radarange"??

Wonder if this is related somehow to the
"Radar" line of AMF bowling balls?
This looks like a 1960 original.
I'm curious if anyone saved this.
Back to "The End" | Onward to Photo Gallery #10!
Page updated 06/26/2006 -- 1052 PM EDT