Vege-Cal:
Birmingham's other "Iron Man"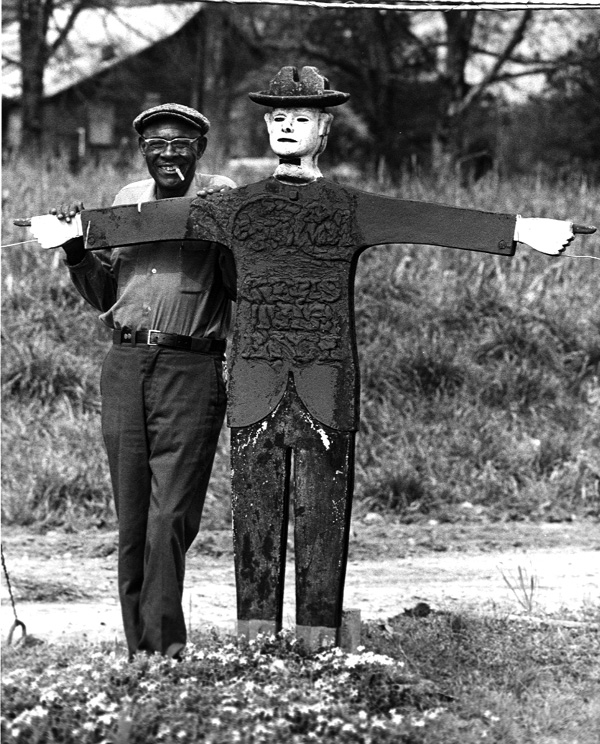 Early in the Summer of 2009, BIRMINGHAM REWOUND received an e-mail from our good friend Jim Baggett at the BPL archives department. He had been contacted by Cheryl Rivers, an editor for the forthcoming updated edition of The Encyclopedia of Southern Culture. Ms. Rivers was specifically interested in a rumored roadside ad campaign for a now-obscure patent medicine called Vege-Cal.
According to Ms. Rivers's research, the makers of Vege-Cal had commissioned at least four or five life-size iron figures that were cast at one of Birmingham's busy foundries, and subsequently installed at various crossroads in the greater metro area. The year, or even decade, in which this took place is still unknown at this time.
Good ol' reliable Jim came up with a pair of photos in the BPL archives, but other than confirming what Ms. Rivers had heard, they do not shed much more light on the question. One of the photos was of very poor quality for reproduction, but indeed showed one of the Vege-Cal "iron men" with the quack concoction's logo painted on the chest. The other photo, which you see here, was obviously made several years later after the advertisement had been removed, either by the elements or on purpose.
We have no idea where this photo was made or in what rural community (judging from the barn in the background) this figure was located. What is obvious is that the Vegetol men were meant to serve as road signs of sorts, probably with a sign on each arm indicating which town lay in each of the two directions. One cannot help but think of the Scarecrow in Oz telling Dorothy, "Of course, people do go both ways."
If any of our REWOUND readers remember seeing the Vege-Cal men in their travels through the hinterlands, and can recall a general location, please let us know so we can forward that information along to Jim and Ms. Rivers! --Tim H.
---

Here is some information furnished by John Morse of Bhamwiki:

According to research by herbalist Tommie Bass related in a book by Anthony Perl, Vega-Cal was a "liver tonic" made by the W. D. Taylor Company of Bessemer. The book further claims that, at least up to the 1930s, the product contained 12% alcohol by volume (as well as cascara [chitticum], senna, peppermint, cassia and sugar syrup). It was marketed in part as a vegetable-based alternative to the mineral calomel (Mercury chloride).

The Smithsonian American Art Museum has catalogued the Hartselle statue in their Inventories of American Painting and Sculpture. When researched in 1993 the surveyors reported that IAS files indicated related articles in The Decatur Daily (2/26/77) and The Birmingham News (3/11/91). They also reported that the Hopewell Homemakers Club repaints the statue every three years.

Among the probate records left by Zadoc(k) Ware (died April 15, 1896) was an apothecary slip with the following letterhead:

"We Manufacture our Tinctures, Wines, Elixirs and Pharmaceutical Preparations and use Chemicals of the highest standard regardless of cost."

- W. D. TAYLOR, Druggist and Chemist, Nineteenth Street, Bessemer, Ala.

===
In addition, there exists one "Vege-Cal Man" outside the town of Hartselle in Morgan County. What follows are some pictures taken by the Webmaster took early in October 2009 while visiting Alabama, and joyriding around the north part of the state with my friend Dan Cole. We made a detour west of Hartselle to see this curio for ourselves.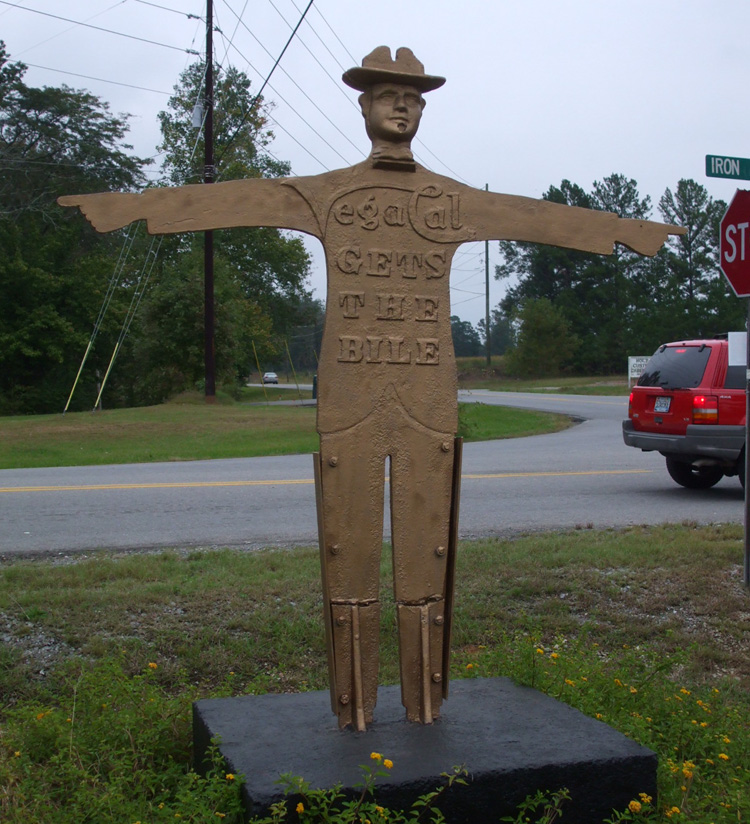 The old man now sports flesh of gold. While it looks nice and all, it only calls attention to the big chunk taken out of his chin.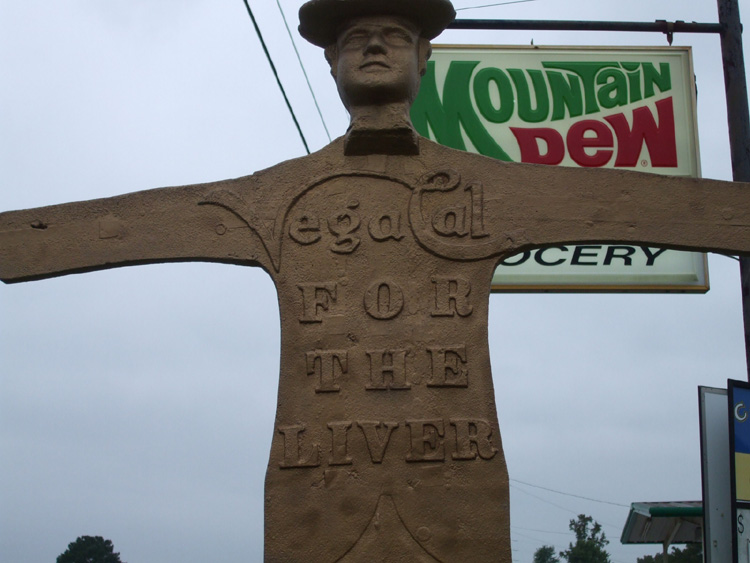 But wait ... on the other side is another message:
Vega-Cal FOR THE LIVER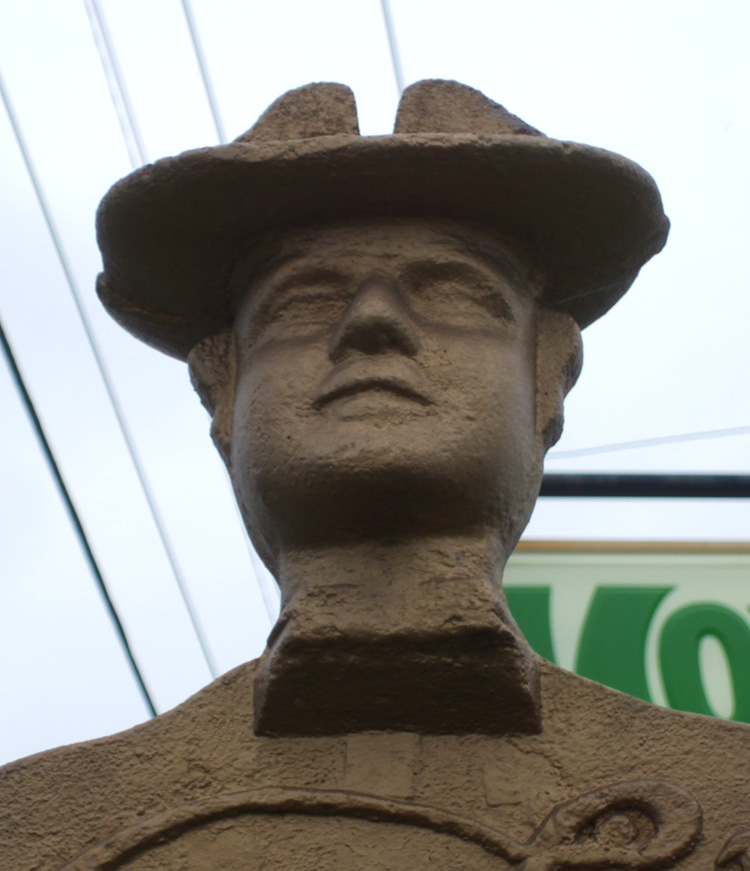 The face, close up. This side has the face completely intact.
So. Would you buy tonic from a double-talking, two-faced man?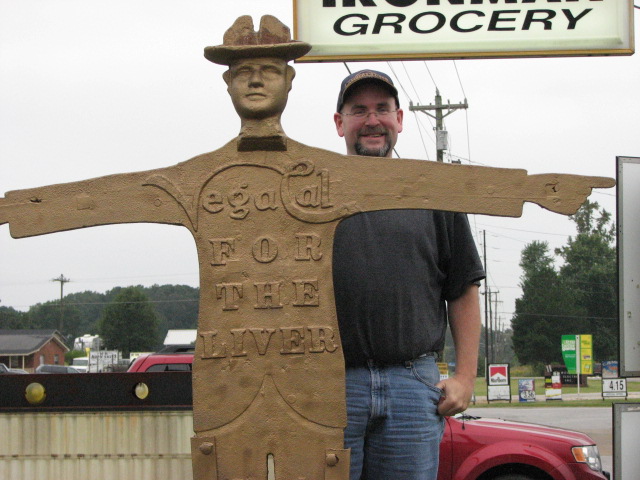 Your Webmaster poses with Mr. Vege-Cal.
(pictures by Russell Wells, 10/05/2009 ... except last picture, taken by Dan Cole)