---

There could hardly be a youngster alive in the 1950s and 1960s who did not receive his or her primary preschool education from Romper Room. While all versions of Romper Room were locally produced in their respective cities, the format had been originated in Baltimore by Bert and Nancy Claster in 1953. Their idea of using television to teach preschoolers was so revolutionary that soon other stations were approaching them and wanting to use their format. The Clasters responded by setting up strict guidelines for their show, which would be franchised to each local station and produced using local talent. All of the ladies who became Romper Room teachers had to make a trip to Baltimore to be trained at the Clasters' own facility, ensuring that the program was the same no matter in what city it aired.

Birmingham's first Romper Room production debuted on Channel 6 on October 3, 1955. (That was the same morning, incidentally, that CBS first presented Captain Kangaroo and ABC introduced The Mickey Mouse Club in the afternoon. Sounds like a good date to carry a DVD recorder back to in a time machine, huh?) The first Birmingham RR teacher was Jean Pierce, who carried the program for two and a half years but did not make it into a major hit. There are not even any known surviving photographs from this version.
WE FOUND ONE: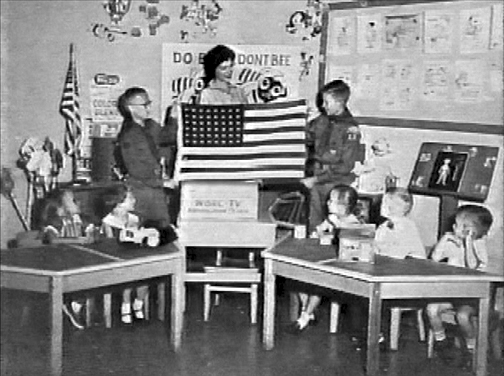 WBRC-TV Romper Room schoolmarm Miss Jean (Pierce)
Here are some recently-found 1956 snapshots taken from the set of the original WBRC-TV Romper Room!
"Miss Jean" later went on to enjoy a long career with the Birmingham Children's Theater.
Almost ten years later, Channel 13 decided to launch a new version of Romper Room. As most baby boomers will recall, the first WAPI-TV RR lady was "Miss Jane" Hooper. Whereas Neal "Sgt. Jack" Miller was an actual county sheriff's deputy, Miss Jane was a really-and-truly schoolteacher in everyday life. Let's pay a visit to Miss Jane and hear her tell how she got the TV gig:
"I had graduated from Auburn University with a degree in education, so I had been teaching school for five years by that time, primarily first grade. I stopped teaching when we decided to raise a family. I was feeding the baby in the high chair, with the television on, one day when I heard the announcement that if you had had teaching experience with young children, or television experience, Channel 13 would like to talk to you. There were over 200 applicants for the job; some of them were teachers, but not all of them.
"I was selected on April 3, 1966, and we were to go on the air April 18! When I was selected it was either a Wednesday or a Thursday, and they told me that on Sunday I had to fly to Baltimore and go through a week of watching the show being done live. At that time, it was being done by the Clasters' daughter Sally. So, Miss Sally would do the show and I would watch, then I would either go home with Sally or go to her mother's house, or to Miss Music's, the pianist, and would learn the different routines, or they would teach me some of the songs. They would tell me how to present the children, and we would just run through the whole thing. They would send scripts that just listed the names of the things, the names of the games they wanted you to play that day, or the story time... You could select your own book to read, but a certain number of minutes had to be allotted for story time, refreshment time, and commercials, depending on how many sponsors you had."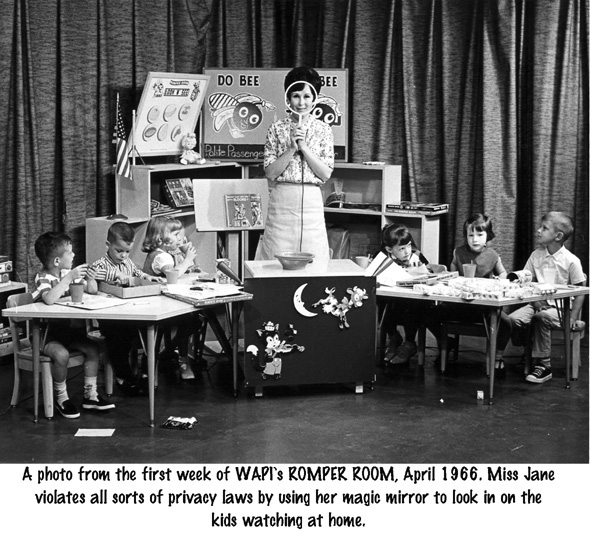 As Miss Jane indicates, the Clasters exercised complete control over every aspect of the show being done under their name. However, they left certain details up to the individual teachers, as Miss Jane explains:
"It was very creative, which was one of the things I loved. For example, one of the segments was to take an imaginary trip. Well, I could decide where we were going to ride our horses, what we were going to see, what we were going to do... so there was a lot of creativity involved in it. Any time you have to ad-lib for 30 minutes you HAVE to be creative!
"Henry Kimbrell was a member of the staff and he became my Mr. Music. That was just fabulous; who else had anyone as talented as Henry Kimbrell coming in for 30 minutes every day and playing for me? Henry was one of my favorite people. He would come in each morning while we were setting up and getting ready, and he would sit down at the piano and just play all these lovely things while I was setting up. Then, when I did the program of course, he would accompany me. Before that, I had only sung when I was teaching school with the first graders!"

Obviously Miss Jane and the WAPI staff had to do some scurrying around to line up six preschoolers for the first week of broadcasts, but after that there was no shortage of kids wanting to attend kindergarten on the tube. Once on the set, they were expected to behave as if they were attending a real-life school. Here is Miss Jane again:
"The Clasters insisted that the show be educational as well as entertaining, so if correction was necessary it was done right there on the air. We did have some children who would misbehave, and we would just handle that as if it were a classroom situation. Sometimes they were so overly excited that they would get a little mischievous, or would not want to sit down in their chair for a long period of time. So that did happen, but we felt that handling it was just as important as teaching everyone how to do right. I remember once, in the middle of the show, I turned around and one of the little girls was standing on top of her desk rather than sitting in her chair. I had to gently correct her and explain that the desk surfaces were where we would have to eat, and so on, just as a teacher would do. Generally speaking, I didn't have the problems that some of the other shows did. On shows like Cousin Cliff's, or Bozo, or Benny Carle, the children were so hyped up that anything could happen; but when they came to Romper Room, they actually felt like they were in a real school situation, and behaved accordingly for the most part."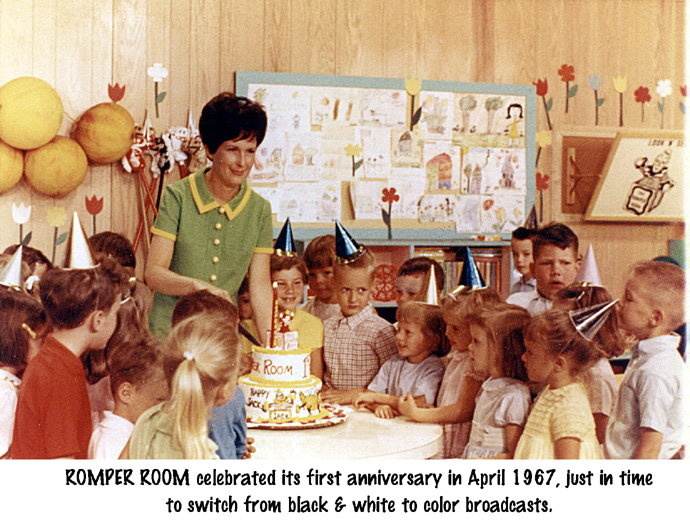 Even though a Romper Room teacher was not a comedian or a performer in the Cousin Cliff or Bozo vein, the demand for personal appearances was still great. Miss Jane appeared at Jack's Hamburgers grand openings from Gadsden to Sylacauga and everywhere in between, using the opportunity to give out autographed photos and interact with the children. The most spectacular of these personal appearances took place at the Alabama Theatre. Miss Jane has vivid memories of what happened that day:
"I was very nervous about that, very apprehensive, because we would talk about it on television and invite children to get their free tickets. I kept thinking, "What if nobody shows up, or if there are only ten children in that whole Alabama Theatre? What if there are only 25?" So the closer we got to the time, the more nervous I became. Well, the morning of it, we got up and went to the theatre early, and they were already lined up; we couldn't figure out why the traffic was so heavy on a Saturday morning, and what was going on downtown that we were in such a conflict with. It was bumper-to-bumper. I have never been so shocked, because there were people and mothers and children lined up for blocks. Then they came to us and said, 'We can't get them all into the Alabama Theatre! What are we going to do?' So they called the Ritz Theatre, who agreed to let the overflow in there. So I did the show at the Alabama, then ran over to the Ritz while the cartoons were on and did the show all again; they brought in more Barber's Milk and Kim & Jim snack cakes, and we had a great day."
So, how many of you got an electric shock when you heard the brand name Kim & Jim again? Yes, that was a long-running sponsor for Romper Room, with its drawing of two kids wearing cowboy hats on the labels. When refreshment time came around on the show each day, one girl and one boy would be selected to wear the "Kim" and "Jim" cowboy hats and pass out the treats. Miss Jane explains how the Kim & Jim brand developed out of an older name in Birmingham baking:
"We started with Dortch snack cakes, an old established Birmingham firm. They added a little boy and girl's picture to the packages so children would recognize them as Kim & Jim snack cakes. We tried to come up with names that were easy to say, and it so happened that Rosemary Lucas's children were Kim and Jim, so that helped us come up with those names. Dortch was a hard word for children to recognize, but when they saw the little pictures on the packages they could find Kim & Jim quickly. They were very, very popular -- and good! We always served those during our refreshment time, along with Barber's milk. That was another commercial I did, but V. J. Elmore stores started off with us too because we needed someone to handle the Romper Room toys that the children could go buy."

With such success, what prompted Miss Jane to resign her teaching post?
"It was a very sad decision that my husband and I finally had to make ourselves. My housekeeper, who had been taking care of my own children all this time, had become ill and couldn't continue doing that. And of course, when you have two children at home, and carpools and so forth, you are very dependent upon that help. Also, by becoming a personality, I was spending a lot of my weekends in personal appearances, so my time had become very restricted. I cried; I really didn't want to leave, but yet I knew what my responsibilities were and I worried about my children. So I was torn between two wonderful things: being a mother and being with my Romper Room children, and it was a very hard decision."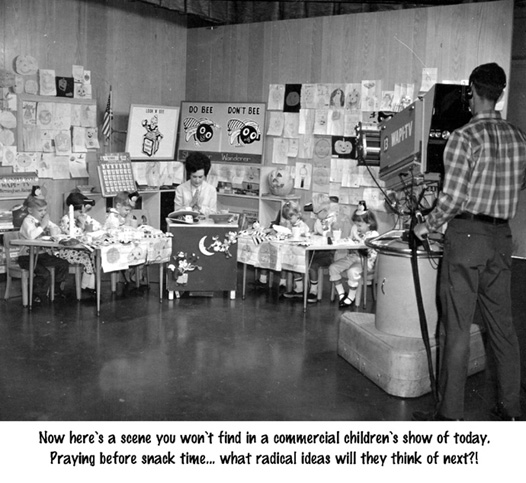 After leaving Romper Room, Miss Jane's spot was filled by "Miss Carol" Aldy, whose story we will get in the next installment. As for Jane, she and her family left Birmingham and lived in Clayton, Alabama, for four and a half years. Jane really did go into kindergarten work in Clayton, becoming head of the preschool program for a private school in Eufaula. Her later career would take her far from the classroom, however, as she relates:
"After we got back from Clayton, I started substitute teaching a few times, but I finally decided I didn't really want to do that. I had always been really interested in fashion, and thought I would like to do something in the fashion world. So I just walked one day into a shop that was looking for help in Brookwood Mall and started working the floor in retail as a salesperson. The shop was owned by a young girl, and one day she told me, 'You know, I want to attract the same kind of customers as you; would you be willing to go to New York with me and look at lines, and tell me what you would buy or what you would wear if you saw it in a store?' That's how I started going to New York, and learned to be a buyer."
Jane spent fifteen years in the retail and fashion world, later becoming director of the UAB book stores. Today she has retired again, but remains active. She has even recently added private tutoring to her resumé, with preschoolers who have no idea how lucky they are to have "Miss Jane" as their personal teacher. Many of their parents would have given their last Kim & Jim snack cake for such an opportunity!

---
PHOTOS COURTESY OF JANE HOOPER
TEXT AND CAPTIONS BY TIM HOLLIS
Created 05/29/2005 - 743 PM EDT .... updated 09/03/2006, 615 PM EDT (link to pictures from Miss Jean's RR)
CONTINUE TO CHAPTER 8 (part 2 of ROMPER)
GO BACK TO CHAPTER 6
RETURN TO "MAGIC CITY KIDS' SHOWS"