Buoyed by the incredible success of Five Points West, ROEBUCK PLAZA held its grand opening on March 14, 1957, a half century ago. Now people who lived in or near the northeast quadrant of Birmingham no longer had to slog through downtown in order to experience the concept of one-stop shopping.


The caption reads, "Holding Grand Opening ceremonies tomorrow at 9 a.m. will be the new and spacious Roebuck Plaza Shopping Center. Birmingham Mayor James W. Morgan will be on hand to cut the ribbon, officially opening the $2.5 million center, developed by the National Plazas Co. of New York. The new center houses 21 business establishments, including a grocery store, hardware store, three five-and-dime stores, a bakery, men's stores, eatery, bank facilities, drug store, laundry, and many others. Also on hand for the ceremonies will be the Woodlawn High School Band, under the direction of Gerald Smith. A spacious parking area, providing space for 300 cars is another feature of the center. Merchants housed in the center will be giving away thousands of dollars worth of prizes tomorrow and for the next five weeks. All you have to do is come in and register for free prizes."
CLICK TO READ THE ARTICLES WHICH APPEARED BELOW THIS PICTURE IN THE MARCH 13, 1957 EDITION OF THE BIRMINGHAM NEWS......

---

SUPER SAVINGS! 1,200 FREE PARKING PLACES! PROTECTIVE CANOPIES FOR ALL-WEATHER SHOPPING! (What? No "air-conditioned sidewalks"??)


If you entered via the new paved road, you'd avoid the crowds. Ann Page said it, so it must be true. (Jane Parker is off to the side harassing patrons who were caught brewing "Eight O'Clock Coffee" at 10 a.m.) PRICE and PRIDE could not be reached for comment.


BANK AROUND THE CLOCK! No, it's not an ad for First National's new ATM machines; "William Teller" would take another 20 years to fire up his bow and arrow. "One of the many convenience features ... is a 24-HOUR DEPOSITORY." Amazing how what we take for granted today was was so revolutionary half a century ago.

In 1957, your savings earned a 2-1/2% yield. Ka-CHING!


Who needed a food court when Woolworth's Lunchonette counter was serving up 35-cent hamburgers ... or, if it was payday and you felt like splurging, you could up your ante by 15 cents and enjoy a "jumbo cheeseburger."

Woolworth would "cheerfully" deliver packages to your car, too. I dare you to ask your "friendly" WAL-MART door greeter to do the same thing...


EXOTIC PERFUME for Mom! A POCKET CLIP SCREWDRIVER for Dad! But what do the kids get? Nothing but a cotton-pickin' balloon. (I think I'll hold out for the Truetone radio myself)

---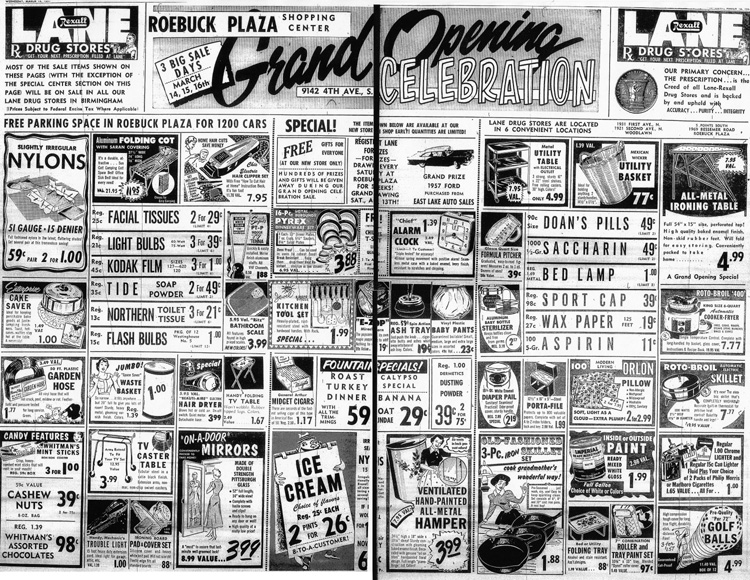 ---
DRIVE WITH CARE AND BUY SINCLAIR....

.....on your way to or from Roebuck Plaza, of course.

The dinosaurs from the 1964 World's Fair made a stop in Birmingham in March 1967 as part of the 10th anniversary celebration at Roebuck Plaza.

Tim Hollis has pictures. (Don't act so surprised)
No thanks, Russell, dinosaurs scare me. But not as much as 30-cent-a-gallon regular leaded gas.
RETURN TO FEATURES PAGE
RETURN TO BIRMINGHAM REWOUND MAIN PAGE
Page created 03/11/2007 -- 838 PM EDT