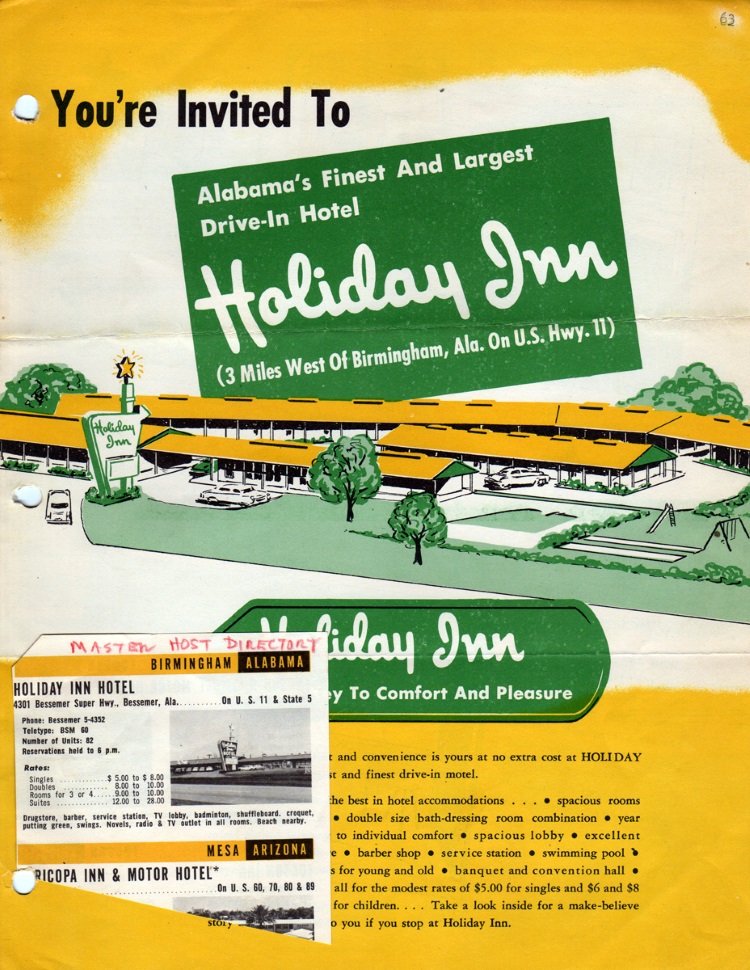 Strangely enough, the first Birmingham Holiday Inn was affiliated with another group, Master Hosts, a so-called "referral" chain much like Best Western.
---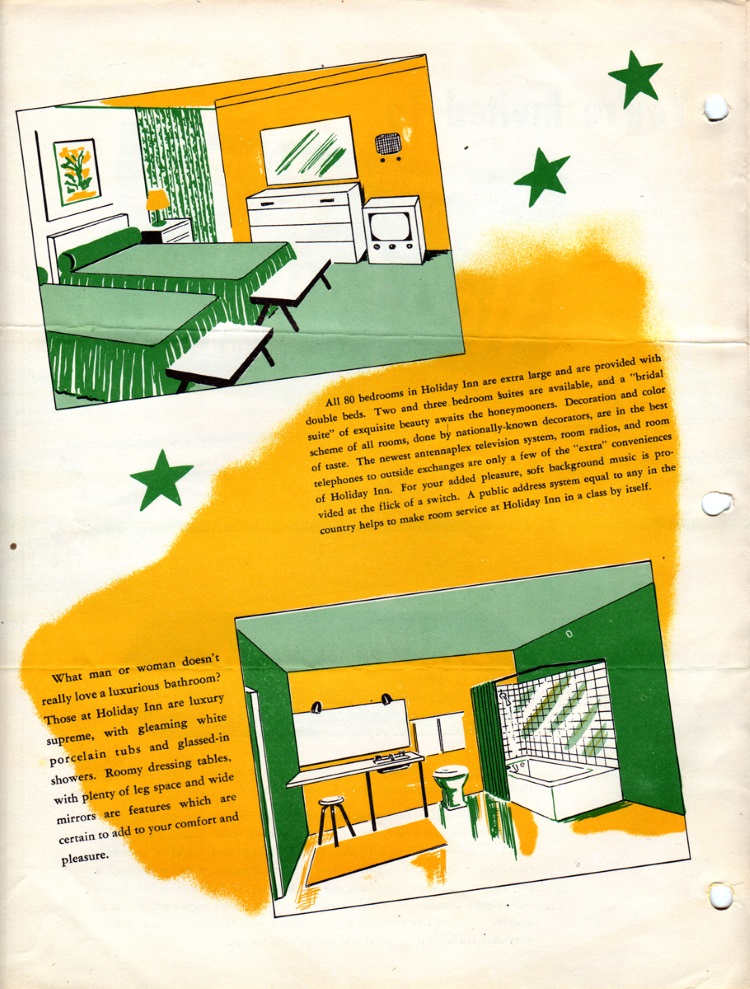 ---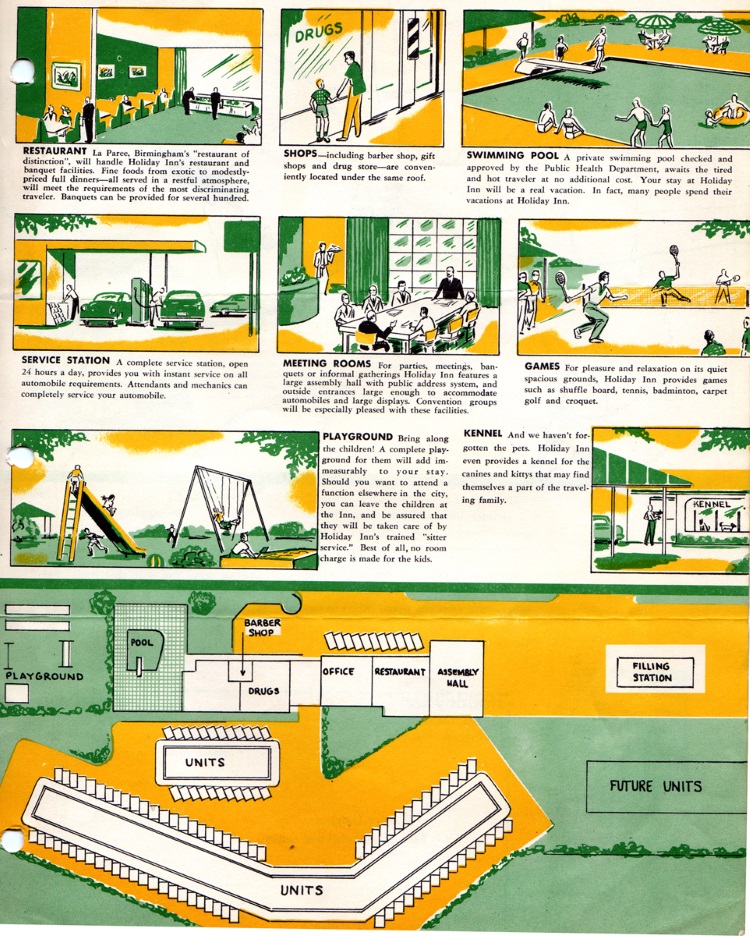 ---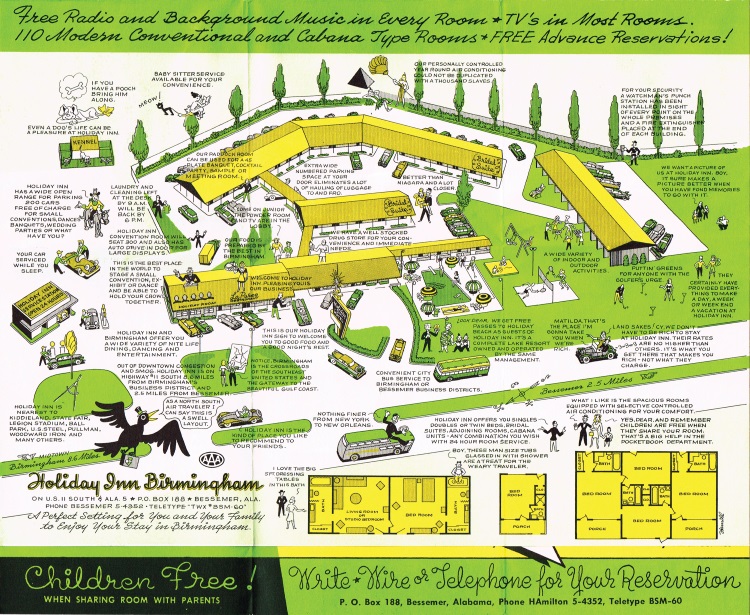 Click on any of these images to enlarge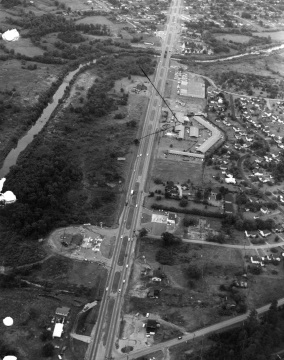 Aerial shot of the Bessemer Super Highway. The thin lines point to the Holiday Inn property.
But look toward the very back, just past the creek bridge. That was another motel of legend:
Wigwam Village!
Birmingham had the teepee cabins until 1964, when it closed.

Birmingham's Dixie Neon Company
makes the state's first Great Sign, adding
the star like a cherry atop a neon sundae.

Publicity picture for "Maid of Cotton."
Other than that, I've no idea. Just enjoy the
Great Sign, because that's why you're here.

At night, it said just one thing: "Enter. Welcome.
Stay here tonight."

Holiday Inn's longtime association with
Gulf Oil wouldn't happen for another 10 years.
This was a SHELL station. (Notice the
Holiday Inn script on the door).

Check-in desk. No Holidex yet.

Isn't this a beautiful lobby??

They even had an on-premises barber ... an
amenity usually found at downtown hotels!

Forget toiletries? There was a drug store
on the property. And not just any drug
store .... this was a REXALL!



Banquet room, hosting the Alabama Cast Iron Pipe Company's (ACIPCO) Christmas party.


Something tells me the kid would rather she
stop reading so he can play with his toy.

Room view, looking toward the pool.
Holiday Inns had in-room TVs at the start!

Another room view, with "Muzak" speaker on
the wall. Doesn't this just ooze "1950s class"?

And still another room view. Kemmons
Wilson had a vision, and you're looking at it.

View of a typical desk. (I'm sure there was stationery in the drawer, too!)

Individually-wrapped water glasses,
complete with logo insignia on the outside.

The bathroom?? I'm glad someone thought
to take a picture of it. Dig that floor tile!

The first postcard, and probably the only one
that had the bathroom included!!



Let's go swimming. Or just admire the sign.


"Swim girls" strike a pose.......

......and one more in front of the flags